Collin Morikawa holds off Jordan Spieth to win the Open – live reaction! | Sport

19:25
Congratulations to Collin Morikawa, then, on his first Open title and his second major championship! Commiserations to Jordan Spieth, Jon Rahm and Louis Oosthuizen, who ran him close. Thanks for reading this blog. See you again at St Andrews for the 150th Open this time next year? Hope so!
-15: Morikawa
-13: Spieth
-11: Rahm, Oosthuizen
-9: Frittelli
-8: Koepka, Hughes
-7: D Johnson, MacIntyre, Berger, Scheffler
-6: Hovland, Grillo, Lowry
-5: Finau, Casey, Siem, Conners

19:19
Morikawa becomes only the sixth player to shoot four rounds under 70 at the Open. His rounds of 67, 64, 68 and 66 put him on an elite list that includes Greg Norman (1993), Nick Price (1994), Tiger Woods (2000), Henrik Stenson (2016) and Jordan Spieth (2017). He's also third on the all-time lists of fewest career starts to win a second major. His two-from-eight record equals that of Bobby Jones, and is only bettered by Gene Sarazen (four) and Walter Hagen (six). This is not bad company to be keeping.

19:15
In the end, Collin Morikawa glided home, able to soak up the atmosphere as he came down 18, the job done. But he was made to work for the luxury. He stayed patient over the opening stretch, then put the pedal to the floor with three consecutive birdies just before the turn. He never let it slip from there, with two astonishing up-and-downs from greenside cabbage, at 10 and 15, as impressive and as important as anything we've seen all week. His score of 265 breaks the record at Royal St George's, previously held by Greg Norman (267 in 1992).

19:09
We have words … but we also have pictures. Our award-winning photographer Tom Jenkins was at Royal St George's all week. Here's the story of Sandwich as seen through his lens.

19:06
As for the fans, he says with a smile: "I would say they weren't cheering for me as much as they were for Louis! But they are the best. You walk up to tees, they're cheering you on. You hit a really good shot out of the rough, they cheer, because they understand how hard golf is. It's an amazing thing to have."

19:04
What's the secret of winning major championships on debut, something he's now done twice? "I wish I had an answer! And if I did, I promise you I would not be telling you! I've had belief in myself since day one that I can do it. When I come to tournaments I've never played, styles of golf I've never played, I do my work. I do my homework Monday through Wednesday to make sure I know what I need to do. Last week at the Scottish Open was a huge learning experience for me, and I put it all together, and thankfully it all paid off this week."

19:01
Collin Morikawa, Champion Golfer of the Year, talks to Sky Sports: "It's amazing. I tell everyone I'm not the biggest history guy, but I want to add myself to history and make memories for myself. To be holding the Claret Jug is one of the best memories I'll have in my lifetime. This was the best experience, the most amazing fans, everything about this week was very special. And to cap it off on my caddy's birthday, on the Sunday, is even more special!"

18:59
Morikawa poses for photos with his new Jug. It's something to celebrate all right. He's the tenth player to win the Open on debut, following Willie Park Sr. (1860), Tom Kidd (1873), Mungo Park (1874), Jock Hutchison (1921), Denny Shute (1933), Ben Hogan (1953), Tony Lema (1964), Tom Watson (1975) and Ben Curtis (here in 2003).
Updated


18:57
Morikawa thanks his family and his partner. "I can feel the love. I hope I can see you soon." Then props to his his caddy JJ Jakovac, 39 years old today. "Everyone wish him happy birthday!" The gallery breaks out into impromptu song, which Morikawa conducts with a smile. Then some feelgood Californian stuff: "I'm sure a lot of you are with friends, someone close to you. Just look over at them right now and say thank you. We are all so honoured to be here. Let's keep it going."

18:53
The winner of the Gold Medal, and the Champion Golfer of the Year, is Collin Morikawa! The 24-year-old from LA comes out of the shadows to collect the Claret Jug and hoist it into the sky. "Good evening everyone!" His first act as the new Open champion is to congratulate Schmid and predict great things for him. Then onto more pressing matters: "This is by far one of the best moments of my life. To see everyone out there, looking at all these fans. Let's hear it for you guys, you have been amazing." What a showman.

18:49
The leading amateur and winner of the Silver Medal comes out to claim his prize. Matthias Schmid shot a 65 on Friday, on his way to a final total of +2 for the week. He'll be teeing it up as a professional next week at the Wales Open. Best of luck to the 23-year-old German!

18:44
Morikawa also won last year's PGA on debut! This has been some way to announce yourself to major-championship golf! He's a special talent. An unbelievable showcase of iron play, scrambling … and putting, which isn't reckoned to be his strongest suit. Well, he kept pouring them in today, again and again. One of the great final rounds. The presentation ceremony coming up!

18:41
Morikawa raises two arms in triumph as he basks in the applause. But there's some admin to do. As Morikawa makes his way to the scorer's hut, Jon Rahm stops to offer his congratulations. A huge bear hug. He deserves it. A wonderful closing round of 66, with the highlights arguably those two outrageous up and downs from thick filth, at 10 and 15. The field came at him hard, but he repelled every attack. He's won the Open on debut, just as Ben Curtis did at this very course back in 2003!

18:36
Morikawa wins the Open!
Collin Morikawa taps in for par! A final round of 66, and he's the Open champion! The Sandwich gallery roars! He allows a gentle smile to play across his face, punches the air a couple of times, embraces his caddy, then offers sincere commiserations to Louis Oosthuizen. What a performance by the new Champion Golfer of the Year!
-15: Morikawa (F)
-13: Spieth (F)
-11: Rahm (F), Oosthuizen (F)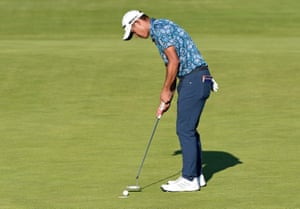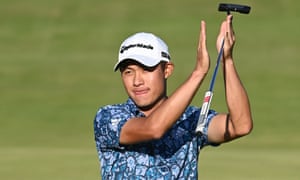 Updated


18:34
Morikawa to putt first. He nearly drains his birdie effort, but a tap-in awaits. Before he takes it, Oosthuizen takes two putts for his par. It's a 71. Warm applause as he misses out narrowly again, but he was never quite on it today. That opening round of 64 seems an awfully long time ago. And then …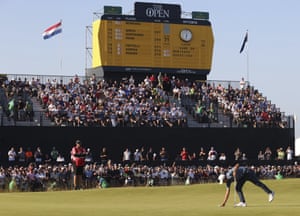 Updated


18:33
Morikawa experiences the dream they all dream of.

Boy versus girl in the World Series of love.
The walk up the 18th on Sunday at the Open, soaking up the love of the gallery, knowing the job is pretty much done! While we're in the business of quoting 1980s pop, on Sky, Nick Faldo references Frankie Goes To Hollywood: "Shooting stars never stop, even when they reach the top." Slightly surreal, but then again, the Collin Morikawa is about to enter the Pleasuredome.

18:28
The engraver is already attacking the base of the Claret Jug with his trusty burin. It's tradition to give the new Champion Golfer his prize with his name already on it. There's no risk being taken here, because Collin Morikawa, 2021 champion in waiting, has found the green in two. He'll have three putts from 25 feet for the Open!

18:26
No time for heroics. Morikawa draws his 3-wood and splits the fairway. Oosthuizen bashes a frustrated drive down the track. It's going to be another near miss. All that's left for the 2010 champ is a chance to grab third spot for himself, which he'll do if he makes birdie.

18:22
Two putts for Collin Morikawa on 17. Par. Louis Oosthuizen's birdie effort doesn't drop. He knows it's over. Morikawa is so close now. A good drive, and the young Californian is surely home and hosed!
-15: Morikawa (17)
-13: Spieth (F)

18:20
Can Spieth give Morikawa something to think about? He prowls around his putt, which may be more like 30 feet, looking again. It's got a huge right-to-left break, and he doesn't give it enough. It dies off to the left, taking with it his chances. Par gives him a final-day 66 and he might have nightmares about that tiddler he missed on 18 last night. He's -13, and as the crowd give him some love, he applauds the gallery to give some back.

18:15
Spieth's drive at 18 squirts into the second cut down the left. His chances of putting some scoreboard pressure on Morikawa decrease accordingly. But he cops a decent lie, and is able to force his second into the front of the green, links-style, bumping it through to the back right. He'll have a 20-foot look for birdie. Meanwhile back on 17, Morikawa showcases some links skills of his own, bumping his second into the front of the green. No point taking any chances now.

18:12
Rahm can't make his birdie. The putt is always dying to the left, and the US Open champion comes up a little short. A 66 today. That extremely flat opening round of 71 cost him in the end. He's the new clubhouse leader at -11, for what that's worth. A 71 for Scottie Scheffler, and he's -7. That's some debut performance … though not quite as good as Morikawa, who, it's so easy to forget, is also playing in his first Open!

18:07
Spieth can't make his birdie putt on 17, the ball always destined to stay on the high side to the right. He remains two off the lead at -13 with one hole to play. Back on 16, Morikawa and Oosthuizen both secure two-putt pars. And up on 18, Rahm wedges his second to ten feet. He'll certainly need to sink that one to retain any chance, and even then it'd be a slim one. Morikawa so close to his second major.
-15: Morikawa (16)
-13: Spieth (17)
-11: Rahm (17), Oosthuizen (16)
-9: Frittelli (F)

18:04
A closing birdie for Mackenzie Hughes. He signs for a final-day 69 and ends the week at -8. His partner Dylan Frittelli pars for a 68, and he finishes in fifth spot. Not bad seeing he only knew he was playing six days ago!

18:02
"I've hit it really well. That should be there." Jordan Spieth gives commentary on his second into 17. His ball lands ten feet past the flag, and you'd think he really needs to make this birdie putt. Back on 16, Morikawa plays safe and finds the middle of the par-three green. He'll have a long look at birdie; Oosthuizen, having fired straight at the flag, will take aim from 12 feet or so.

17:59
In it goes! Morikawa has a reputation as an unreliable putter, but he's made some huge ones today. That was always pouring straight into the front of the cup, as cool and collected as you'll see! He gives the air a couple of small jabs; he knows how big that save was. Simply sensational. That up and down may well have secured his first Open Championship! Par meanwhile for his partner Oosthuizen, and for Rahm at 17.
-15: Morikawa (15)
-13: Spieth (16)
-11: Rahm (17), Oosthuizen (15)

17:56
Morikawa, shortsided and deep in bother, opens up his wedge and swishes hard through the fescue, giving his ball plenty of air. It flops on the fringe of the green and rolls gracefully ten feet past. That's unbelievably good from that position, with an Open Championship on the line! Nerves of ice-cold steel. Can he complete another absurd scramble, just as he did at 10? Huge putt coming up.

17:52
Morikawa doesn't take advantage of his good fortune. From 200 yards, he pulls his second into very thick rough to the left of the green. He's scrambled from this sort of situation before this afternoon. Can he do it now he's a few holes closer to Open glory? Meanwhile on 16, Spieth lags his long birdie putt to tap-in distance for his par, while on 17 his old University of Texas mucker Dylan Frittelli makes a second birdie in three holes to climb to -9.

17:47
Rahm mashes his drive miles down 17. Back on 15, Morikawa flirts with two fairway bunkers down the right, but misses both by a yard or so. Lucky, but then he's earned a break after that wondrous putt on 15. Then on the par-three 16th, Spieth finds the dancefloor but well short of the flag. He'll have an outside chance of birdie from 30 feet or so.

17:45
Rahm taps in for his birdie on 16. This is really cooking now. Back on 15, Spieth, having found the heart of the green in regulation, pinches his nose in agony as his 15-foot birdie putt bodyswerves the hole, an inch wide left.
-15: Morikawa (14)
-13: Spieth (15)
-11: Rahm (16), Oosthuizen (14)

17:43
Morikawa is made of the special stuff! He rattles in the birdie putt. It never looked like missing! The climate was threatening to close in on the Californian there, but he's got his retaliation in first! The birdie moves him two clear of Spieth again at -15; Oosthuizen tidies up to return to -11.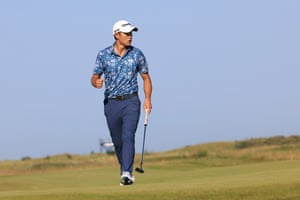 Updated


17:41
Morikawa's turn to chip up. His ball bounds towards the flag … but it's a little shy of energy, and topples back down the ridge running across the green, just ahead of the very saucy pin placement. He'll still have a look at birdie, but up a hill from 15 feet or so.

17:39
Jon Rahm will be moving to -11 in a couple of minutes. He's just sent the crispest of irons at the par-three 16th to kick-in distance. For a second, a truly sensational ace looked on the cards. One bounce more, and it was in. But it'll be a birdie. Meanwhile back on 15, Spieth finds the heart of the green in two. And in other kick-in-birdie news, Oosthuizen sends his third to 18 inches or so. He'll be moving back to -11!

17:36
Jon Rahm's bid isn't quite over yet! It's three birdies in a row now, as he sends a tramliner into the cup at 15! The gallery goes wild, and there are quite a few possibilities now. Look at the sheer quality of this leader board!
-14: Morikawa (13)
-13: Spieth (14)
-10: Rahm (15), Oosthuizen (13)

17:34
Oosthuizen certainly looks up against it now. His drive at 14 creeps into the thick rough down the left. Morikawa's tee shot sits up nicely in the semi-rough. And they'll both have heard the hollers up the hole. Spieth, having landed his second just off the front of the green, gets up and down without fuss for another birdie! He's just a shot off the lead, and this Open Championship is very much on.
-14: Morikawa (13)
-13: Spieth (14)
-10: Oosthuizen (13)

17:31
Louis Oosthuizen can't make his eight-foot par saver on 13. The putt had plenty of right-to-left break, and he didn't give it enough. He slips four behind the leader, and unless Morikawa starts making mistakes – and he's shown no sign of doing that so far – the jig could be up for the 2010 champion. Another near miss?
-14: Morikawa (13)
-12: Spieth (13)
-10: Oosthuizen (13)

17:28
A disappointing bogey at 18 for Daniel Berger. That's still a 68, though, and he ends the week in the top ten at -7. On 15, Jon Rahm whistles his drive down the right of the fairway, avoiding the bunkers. And back on 13, Morikawa can't make his birdie putt, the ball shaving the right edge. He remains at -14.

17:25
Morikawa flirts with the bunker to the left of the 13th green, but his ball takes a kind bounce right and stops pin high. He'll have a look at birdie. Oosthuizen wedges out of the fairway bunker, then sets up a very decent chance to save his par with a fine wedge in. Up on the 14th green, Rahm takes two putts for a birdie, but only after a chat with a rules official, his ball having moved as he went to address it. All good, everyone happy. He's -9.
Updated


17:22
Oosthuizen's drive at 13 finds a bunker down the left. That's up against the face. He'll almost certainly have to take his medicine and chop out. Morikawa splits the fairway. Up on 14, Spieth plays it safe with an iron off the tee. Straight down the middle. The last thing anyone wants to see is one of the leaders slicing out of bounds, Dustin Johnson style. It'd be too painful.

17:16
Morikawa leaves his putt a couple of turns short. His first slightly jittery effort of the day. Oosthuizen can't capitalise, though, giving his effort a little too much juice. It doesn't take the break. But up on 13, Spieth strokes his birdie putt into the cup, and now there's only a couple in it. A few twists and turns remain, no doubt.
-14: Morikawa (12)
-12: Spieth (13)
-11: Oosthuizen (12)
-8: Koepka (F), Berger (17), Hughes (14), Rahm (13)
Denial of responsibility!
Swift Telecast is an automatic aggregator of the all world's media. In each content, the hyperlink to the primary source is specified. All trademarks belong to their rightful owners, all materials to their authors. If you are the owner of the content and do not want us to publish your materials, please contact us by email –
[email protected]
. The content will be deleted within 24 hours.