Comedian was in awe shooting political thriller opposite Margot Robbie, Christian Bale and more
Article content
After largely staying out of the spotlight for the past decade, Toronto-born funnyman Mike Myers is making a comeback of sorts.
Article content
Following his appearance playing eight characters in the Netflix comedy The Pentaverate earlier this year, the Wayne's World and Austin Powers star joins the starry cast of David O. Russell's Amsterdam.
Article content
Russell's latest film is set in the 1930s and follows three friends — Christian Bale, John David Washington and Margot Robbie — who find themselves at the centre of a nefarious political plot after they are accused of murder.
As the trio try to unravel a deeply-rooted conspiracy (a lot of which actually happened), they are drawn into the orbit of a pair of international spies and bird watchers — played by Myers and Michael Shannon — and a distinguished war vet (Robert De Niro) as they try to stop a plan that threatens the sanctity of the American government.
Article content
"We took some recorded history that's explosive and fascinating, but we then invented our own friendship of those (three) and the people they met along the way on a journey to save themselves," Russell says.
The globe-trotting story also features a smorgasbord of stars playing against type in key supporting roles, including Chris Rock, Taylor Swift, Rami Malek, Anya Taylor-Joy, Zoe Saldana, Timothy Olyphant and Andrea Riseborough.
"David O. Russell is an American auteur," Myers, 59, says matter-of-factly in an early Sunday morning video call. "So I served at his pleasure. Whatever he wanted me to do, it was his dream and I was there to support it.
Dana Carvey said to me, 'The days are long and the years are short.'

Mike Myers has enjoyed being a dad over the past decade
But with a plot line that revisits an episode in American history when fascists tried to topple the U.S. government, Myers says it's a timely story that draws eerie parallels to contemporary politics and where claims of a stolen election are still proliferate. "It's like Flintstones vitamins — you're eating Barney and Dino and you don't need to know it's good for you. There's a great message there," he says.
Article content
"Friendship and love are the bedrock of the movie, and to me, the most important thing is the friendship between these characters," says Russell, who worked with Bale on American Hustle and The Fighter. "These are characters who are based on some historical characters who went through some tremendous things together … But as Christian said, all of my movies — The Fighter, Silver Linings Playbook, Joy, American Hustle — are about outsiders who find reasons to love life in spite of whatever (adversity) it is they're facing. That's what the notion of Amsterdam is."
Myers says he was honoured to be working amongst so many notable Hollywood names.
"I would just watch Margot act and get lost in it and then forget it was my turn to talk," the father-of-three enthuses. "De Niro, he's just fantastic. Michael Shannon, he's a great teacher … it blew my mind seeing how all these people work. They're all just spectacular."
Article content
Oftentimes he and Bale would refuse to break character between scenes. "We'd walk to our trailers and stay in character," he chuckles. "I was there in a parking lot in Los Angeles thinking, 'I'm not going to give in, are you going to give in?'"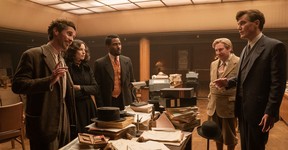 Myers, who caught his big break in 1989 when he joined Saturday Night Live, says the experience making Amsterdam differed from the comedic projects he has written and starred in because of how the various stars prepped for their parts.
"On Austin Powers movies I get to rewrite madly and it's my show … I know how to make my movies," he says. "So it was fantastic to see all these different approaches."
Of course, the mention of Austin Powers is my opening to offer that I hope he'll revive the buck-toothed British spy for a fourth go-round.
Article content
"You're very kind. That's very nice of you to say," Myers replies noncommittally.
But while The Pentaverate and now Amsterdam have reignited his love for acting again, Myers is cautious about rushing too quickly back into the spotlight.
"I always wanted to be a dad. I've had three kids in the last 11 years and (Wayne's World co-star) Dana Carvey had said to me, 'The days are long and the years are short,'" he says thoughtfully. "I had great parents and I always wanted to have kids — my kids are fantastic. So I'm enjoying this part of my life. I have stuff lined up and I have things I'm going to do in the next little while. But this whole summer was glorious. It was just me and the family, which was a complete luxury. They're only going to be 11, 8 and 6 once."
Amsterdam opens in theatres this Friday.
Christian Bale talks 'Ford v Ferrari', the films that got away, Batman and his real dream job

Margot Robbie and Joel Kinnaman reveal most ridiculous Suicide Squad member

Mike Myers feared getting fired on 'Saturday Night Live'

Mike Myers talks 'Wayne's World,' the Leafs, 'Austin Powers'
Denial of responsibility!
Swift Telecast is an automatic aggregator of the all world's media. In each content, the hyperlink to the primary source is specified. All trademarks belong to their rightful owners, all materials to their authors. If you are the owner of the content and do not want us to publish your materials, please contact us by email –
swifttelecast.com
. The content will be deleted within 24 hours.