04:20
Suns 95-92 Bucks, 4:03, 4th quarter
Giannis with a three that *just* bounces off, but Connaughton secures the rebound and tips it in. Huge, huge move. Can the Bucks get a stop here? Yes, Portis with a defensive rebound. Portis attempts a layup but Ayton blocks him. The Bucks get another chance but it's no doing and Ayton eventually corrals that. Huge missed opportunity that.

04:18
Suns 95-90 Bucks, 5:31, 4th quarter
Middleton hits the 30 point mark with a layup. On the other end, Portis gets a huge block on Payne who is trying for a layup of his own. It's a beautiful moment, but Johnson just ends up increasing the Suns lead so ultimately it was for naught.

04:16
Suns 93-88 Bucks, 6:27, 4th quarter
Tucker fouls Crowder, or at least that's what the officials say he does, and he gets three free throws and gets all three.

04:15
Suns 90-88 Bucks, 6:36, 4th quarter
If the Bucks lose this one, it's going to hurt. The Suns aren't playing anything close to their best effort here but they just can't seem to get out of their own way. Well, one thing will help is this Giannis dunk that pulls them within two.

04:12
What's it like to watch this game? Well…

04:11
Suns 90-86 Bucks, 7:09, 4th quarter
Paul misses a three, the Bucks have a three-pointer on their end… but Connaughton can't hit it. In the scramble, Connaughton loses the ball and ends up fouling Crowder to put him on the line. The crowd boos understandably. Crowder misses the first one, to Milwaukee's collective delight, but lands the second one. Milwaukee calls a timeout to calm everything down, this entire thing seems to be close to on-tilt.
Updated


04:08
Suns 89-86 Bucks, 7:43, 4th quarter
Middleton with a layup to keep Milwaukee close. Oh wow, Giannis picks off Crowder and runs to the other end for an emphatic dunk that cuts the lead to three points.

04:06
Suns 87-82 Bucks, 8:39, 4th quarter
Another Crowder foul puts Giannis on the line for some free throws that the Bucks desperately need. He hits just one of two. Chris Paul gets the ball and he finally gets one to go down.

04:05
Suns 87-81 Bucks, 8:51, 4th quarter
Chris Paul puts one up and his poor shooting night continues. The Bucks get several chances on their end but can't get anything up. Holiday had a layup chance there but couldn't get it done plus Giannis gets charged with a possession-changing foul.

04:02
Suns 87-81 Bucks, 9:50, 4th quarter
Big news for the Bucks: they almost immediately get a fifth foul on Booker. Holiay scores on the possession after the team takes out Booker. Bookmark that sequence for later.
Cam Johnson hits a two-pointer for Phoenix.

04:01
Suns 85-79 Bucks, 11:23, 4th quarter
Cam Johnson with a three to extend the Phoenix lead. Connaughton answers with one of their own. That's a way to start a fourth quarter.

03:58
This could end up being one of those career-defining games for Devin Booker who already has 38 points and there's an entire quarter left in the game. Now the Suns' need to find a way to keep him out of foul trouble.

03:57
Suns 82-76 Bucks, end of the 3rd quarter
Payne with a big three and his team now has a seven-point lead… Never mind, it's four now, Middleton gets a three of his own. Nobody's running away with this one. Booker loses control of the ball, the Bucks get it back but after a scrum the ball ends up going off of Middleton and it's now Phoenix ball. Probably could have been a foul there, but hey it's the playoffs. On the other end, Booker is automatic with a jumper. Bucks have the last possession of the series but get absolutely swarmed and can't do anything with it. Suns up six heading to the fourth.

03:54
Suns 77-73 Bucks, 1:23, 3rd quarter
Devin Booker with the longest of long twos (it's briefly ruled a three-pointer) and then he gets back on the line and adds two more free throws to his total. Huge Phoenix swing there.

03:52
Suns 73-73 Bucks, 2:30, 3rd quarter
I realized I promised online that I would include as many "I Think You Should Leave" references as possible during this liveblog but this game really hasn't left me much time to riff: which is a good thing for everybody quite honestly.
When we get back, Middleton is on the line and makes one of two free throws, but Lopez tips in the second miss. What a break for he Bucks and it's a tied game.

03:48
Suns 73-70 Bucks, 2:33, 3rd quarter
Fouls be damned, Booker is back in the game and he extends the Suns lead back to three. Phoenix with a timeout.
Updated


03:47
Suns 71-70 Bucks, 3:07, 3rd quarter
And Pat Connaughton hits his first basket and it's a three-pointer that gives the Bucks a lead… that barely lasts a few seconds, as Payne drives in for a layup while picking up a foul along the way.
He misses the free throw however.

03:45
Suns 69-67 Bucks, 4:32, 3rd quarter
Now, Paul picks up a foul and Giannis is on the line. His first free throw attempt is no good. But he makes the second.

03:44
Suns 69-66 Bucks, 4:32, 3rd quarter
Oh, there's Chris Paul who makes a shot. Holiday finds Giannis for a layup that gets the audience excited… until a Paul layup immediately quiets them. The scoring binge continues with Middleton hitting a mid-ranger.
Updated


03:42
Suns 65-62 Bucks, 5:37, 3rd quarter
Here's the problem for the Suns: Booker is, by far, their most dangerous player and he's just picked up his fourth foul. Middleton gets to the line an makes both free throws while the Suns have to take Booker out here.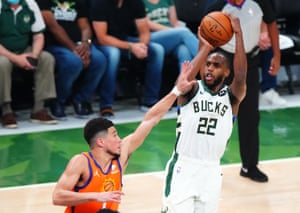 Updated


03:41
Suns 65-60 Bucks, 6:04, 3rd quarter
Booker gets fouled on the three point line and is rewarded with free throws. As you can imagine, the Milwaukee crowd is none too happy with the refs. Booker goes 2-for-3.

03:40
Suns 63-60 Bucks, 6:25, 3rd quarter
Middleton and Giannis with back-to-back baskets and, just like that, it's a one possession game again. Nobody's going to get separation here, are they?

03:38
Suns 63-56 Bucks, 6:25, 3rd quarter
Booker is pretty much unguardable today as he gets those points right back despite the Bucks' best defensive efforts. After another fruitless Milwaukee Bucks possession, Booker makes it back-to-back jumpers.

03:37
Suns 59-56 Bucks, 8:03, 3rd quarter
Out of the timeout, Middleton misses. Bucks keep getting opportunities here, but aren't capitalizing. Next up, Jae Crowder fouls Lopez who will get on the line. A reliable free-throw shooter, Lopez makes both.

03:33
Suns 59-54 Bucks, 8:14, 3rd quarter
Lopez can't make a three and Ayton picks up a rebound. Paul's bad game continues with an avoidable turnover. Giannis misses for the Bucks but Paul picks up a foul, so the ball's back to them. They decide to take a timeout here.

03:31
Suns 59-54 Bucks, 9:07, 3rd quarter
Giannis finally gets the Bucks' first point but Booker, as he's been doing all game, responds with a make of his own.

03:30
Suns 57-52 Bucks, 9:48, 3rd quarter
However, Booker picks up a third foul and it might be a clear-path foul. The officials briefly talk it over and decide it's just going to be a common foul. Still, Bucks ball here. Middleton launches one… and that's no good.

03:28
Suns 57-52 Bucks, 10:01, 3rd quarter
And there's Booker again, getting a basket here and then playing solid defense on Holiday to help force a miss.

03:27
Start of the second half
Suns 55-52 Bucks, 11:24, 3rd quarter
And we're back to basketball. Crowder scores first, a three-pointer that gives the Suns a lead.

03:24
Once again, the viewership numbers suggest that Suns/Bucks is not the ratings disaster everybody was worried it would be:

03:17
Okay you know what, I am going to make a second half prediction here: it's going to be tied after four quarters and this is going to be decided in overtime.
Now, I am not exactly rooting for a long night here but it would be good for basketball. In any case, I've broken into my emergency non-dairy ice cream stash just in case I end up having to be here for longer than usual.

03:14
Oh, if you want to hear the not-so-great Covid-19 news about Bradley Beal and the US men's basketball team, you can catch up with it here during halftime.

03:12
Halftime thoughts
Well, if you wanted a competitive game, you've got one. It doesn't feel that either team has the other's number and we've already seen a few lead changes. It's hard to predict what's going to happen on the other side of halftime, but I have to think that the Suns are going to get Paul more involved.

03:10
End of the first half
Suns 52-52 Bucks, end of the first half
Bridges hits a three-pointer out of the break. Meanwhile Middleton finds Giannis with an alley-oop. A Booker jumper doesn't go and after a bit of scrambling, the Bucks get it back. On the other end, Middleton increases his point total to 16 and ties the game.
P.J. Tucker gets called for a foul, but the Bucks had one to give. Booker has the ball in his hands for the final shot… and it doesn't go through. We're all tied up here going into halftime, which is exactly how it should be after such a closely-played game.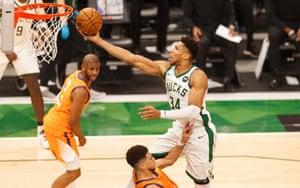 Updated


03:07
Suns 49-47 Bucks, 1:33, 2nd quarter
Booker has 20 points for the Suns, Middleton leads Bucks scorers with 13.
Meanwhile, Chris Paul is 1-for-4 and only has two points. Can't think that will last.

03:05
Suns 49-47 Bucks, 1:33, 2nd quarter
Booker scores again, he already has 20 points this game. Holiday, who couldn't buy a shot for most of the first quarter, gets a layup that forces Phoenix to put the game on pause. It's a two-point game.

03:03
Suns 47-45 Bucks, 1:45, 2nd quarter
Holiday is on the line to tie things up that once again doesn't last long. Here it's Payne who gives the Bucks some pain with a jumper. Suns back on top.

03:01
Suns 45-43 Bucks, 3:09, 2nd quarter
A goaltending call goes against Ayton and that's two more points for the Bucks to briefly tie things up. Booker, however, is fouled by P.J. Tucker and yet again drains two more free throws.

02:59
Suns 43-41 Bucks, 3:56, 2nd quarter
Booker scores now to re-tie the game, it's looking more and more like a see-saw affair, especially when a Giannis miss means Booker gets the ball right back and he scores yet again.

02:58
Suns 39-41 Bucks, 4:45, 2nd quarter
Middleton scores again, my pregame prediction about him being hot here is looking prescient. However, now it's time for Phoenix to answer. Cameron Payne hits a layup while Booker hits a floater.
Ayton, however, fouls Giannis and he's back on the line. He makes both.

02:56
Suns 35-37 Bucks, 5:55, 2nd quarter
Another foul on Crowder and there's Lopez back on the line. He drains both free throws, On the other end Booker, having a fine game, gets the two right back.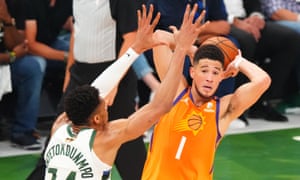 Updated


02:54
Suns 33-35 Bucks, 6:16, 2nd quarter
Middleton with a smooth move to get to the basket to give the Bucks a lead.

02:51
The Bucks tie the game
Suns 33-33 Bucks, 6:50, 2nd quarter
Finally the Bucks get a stop, Lopez makes a layup and finally, after a half-dozen or so attempts, Milwaukee ties up the game. Ayton can't convert on he other end, the Bucks get the ball back. Crowder block a Middleton layup and the Bucks take another timeout.

02:49
Suns 33-31 Bucks, 7:45, 2nd quarter
Lopez is on the line, the foul is on Crowder, and knocks down two three throws. A two-point game again, let's see if the Bucks can get a stop here on the other end.

02:47
Suns 33-29 Bucks, 8:01, 2nd quarter
But the Bucks just can't seem to get a lead here. Crowder makes another three-pointer and if those are starting to go in, he's pretty much impossible to deal with.

02:45
Suns 30-29 Bucks, 8:57, 2nd quarter
Ooh, there's a Crowder three. He's going to hit those from time to time. Giannis throws down another dunk, he might be shaking off his early rust. Chris Paul, who has been a bit quiet so far, finds Craig for a dunk as the Suns keep the Bucks at bay.
Oh and there's Holiday with a big bucket… and he's fouled by Devin Booker to get on the line. He adds a free throw and it's a one-point game.

02:43
Suns 25-24 Bucks, 10:04, 2nd quarter
Middleton with a lineup, he definitely looks like the best player on the court. Giannis scores after a missed Crowder shot and it's just a one-point game. The first back-to-back buckets for the Bucks in what seems like ages.

02:42
Suns 25-20 Bucks, 11:09, 2nd quarter
Bobby Portis fouls Torrey Craig to put him on the line, he makes both free throws to increase the Suns lead.

02:41
Suns 23-20 Bucks, 11:41, 2nd quarter
The Bucks shot 32% from the field in the first quarter, it's hard to imagine that they won't get better as the game progresses. Middleton takes a shot… and misses. That's not going to help anything.
Denial of responsibility!
Swift Telecast is an automatic aggregator of the all world's media. In each content, the hyperlink to the primary source is specified. All trademarks belong to their rightful owners, all materials to their authors. If you are the owner of the content and do not want us to publish your materials, please contact us by email –
[email protected]
. The content will be deleted within 24 hours.