20:54
WICKET! Buttler c Babar b Shadab Khan 21 (Englnd 67-1)
Superbly taken by a fired-up Babar who hurls the ball into the turf, after Buttler skies the ball to long-off.


20:49
7th over: England 51-0 (Roy 34, Buttler 10) It's the new boy, the leggie, and he doesn't have a first over to remember, as Buttler suddenly discovers his touch and reverse-pulls him to the boundary. Roy finds the boundary twice more as he rockets towards his fifty. England could win this in 15 overs.
Updated


20:45
6th over: England 45-0 (Roy 34, Buttler 10) Buttler is beaten by an on point Hasan Ali yorker, then is within a clothes peg of being caught behind. Eventually accepts the inevitable and gives Roy the strike. But even Roy is beaten, trying to ramp a ball and ends up doing the do-si-do. Ah, that's more like it! An air-kissing on drive.
Updated


20:40
5th over: England 39-0 (Roy 29, Buttler 9) And the pattern continues: Roy blasting – over long on for a monstrous six, another swept for four – Butler poking at Imad – he gets a bottom edge which somehow just misses his stumps.
Updated


20:37
4th over: England 27-0 (Roy 18, Buttler 8) Shaheen Afridi is whipped off after that very expensive first over, and Babar turns to Hasan Ali. He sends down a wide to start, but then four dots, before Buttler swipes him for a couple. He tries to scoop the last but is befuddled by a slower ball. Excellent bowling. Buttler not timing the ball to his usual perfection
Hi Tanya, Hi Colum Fordham.
"Match beginning to become very tasty in sunny Old Trafford with Rizwan taking control and England's spin trio testing the Pakistan batsmen. Just to add flavour, enjoying a multicultural supper with English friends featuring Indian dal, Sri Lankan fish fritters and Falafel made by a Pakistani family here in Naples. Oh, and crisps and beer."
Bloody marvellous!

20:31
3rd over: England 24-0 (Roy 18, Buttler 6)Imad , hair slicked back behind a head band, slings the ball from hand to hand in approach. Buttler picks up his first boundary , with a full-wellied cover whatck.

20:28
2nd over: England 19-0 (Roy 18, Buttler 1) Shaheen Afridi takes the Statham End with his magnificent high hair. Humph, says Roy pinging him for four leg-side fours: Jason Roy – he loves a bit of pace.
Mark Hooper's mind is on Mongolia,"I once visited Lake Hovsgol in Mongolia, which freezes so solid that trucks use it to drive from Siberia as it's a smoother ride than the roads. One night we witnessed a truck driver dig a pit in the ice and light a fire under the truck's fuel tank to stop it from freezing. Health and safety?"

20:23
1st over: England 3-0 (Roy 2, Buttler 1) Babar throws the ball to Imad and it is tidy. Just three singles
Zain Malik is optimistic: "There is still something in it for Bobby's boys. Old Trafford has been generous to the English Spinners. Luckily Pakistan are following Ramiz Raja's advice and have decided to experiment with two leggies. Shadab and Usman Qadir. Hassan Ali's services will also be intrinsic. This is not much of a total but the battle is on. England's game to lose."

20:14
Pakistan 154-6
"It's a great wicket so bowl spin on," says Moeen – there's no escape for the players between innings. I'd guess this isn't enough by Pakistan, but let's see what their spinners can do. A nice innings from Rizwan, but he didn't really have any support. Career best figures for Rashid and miserly from Moeen. Time for a quick drink, back in five mins!

20:09
20th over: Pakistan 154-6 (Hasan Ali 15, Rizwan 76) Rizwan is furious with himself after missing a full ball from Jordan. The next clears the fielders at cover peddling backwards but doesn't cross the rope. The next, a 90mph yorker, scuffs Hasan Alis' boots. He squeezes a single to the fourth. Rizwan then tries to ramp but is foxed by a beauty of a slower ball and can only pick two off the last.
Updated


20:04
19th over: Pakistan 149-6 (Hasan Ali 12, Rizwan 74) It's Saqib with the penultimate over. That's the way to do it! Hasan Ali gets off the mark with a tennis ball volley into the crowd where it is all too much for a crying baby. Slower ball spotted. The next is a wide, and called, but the next just wide enough. At the top of his mark, Chris Jordan offers his two penneth'worth. Hasan Ali isn't going to die trying, throws the bat and ball flies off the top edge past Buttler for four.
One for the diary, on a sunny August Monday:

19:58
18th over: Pakistan 135-6 (Hasan Ali 0, Rizwan 58) Just the one boundary, with big runs needed from the final two. Jordan 3-0–25-0

19:56
WICKET! Imad Wasim run-out 2 (Pakistan 129-6)
Off he goes, shaking his head, but he's only got himself to blame I'm afraid after strolling between the wickets with the urgency of a cow at pasture. Smart throw by Bairstow and great take and dispatch by Jordan.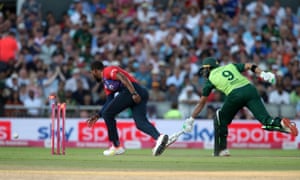 Updated


19:52
17th over: Pakistan 125-5 (Imad Wasim 0, Rizwan 58) Rashid throws it up and Rizwan says thank you, dances to meet it and sling-shots it into the crowd. But after that they can't get after him, and the frustration shows in Shadab's hopeful hoe towards the boundary. Tasty figures from Rashid: 4-35.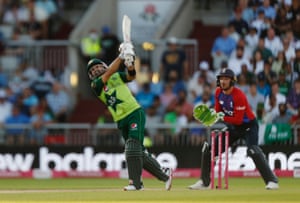 Updated


19:50
WICKET! Shadab c Livingstone b Rashid 2 (Pakistan 125-5)
Shadab needs to have a go, but he sends it high rather than long with the heel of the bat and Livingstone snaffles it, straight out of the sun.

Updated


19:46
16th over: Pakistan 116-4 (Shadab 1, Rizwan 58) The end of Moeen's spell and they've not been able to get him to the rope. He's ripped it out of dusting pitch. Excellent stuff. Pakistan now need to get that ball into the green shirts in the crowd.

19:43
WICKET! Fakhar lbw Ali 24 (Pakistan 114-4)
The umpire originally says no to a straight ball that seems to hit Fakhar's bat pad. Moeen is very keen, persuades Morgan, and he's right! Top of middle.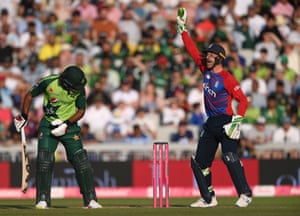 Updated


19:40
15th over: Pakistan 113-3 (Fakhar 24, Rizwan 56) Pakistan kept quiet again as spin, this time through Livingstone, does the business again for England. Stuart Broad stares at the pitch, hmmm he says, this isn't going to be an easy pitch to score on.
I think the simplest answer would be rhythm and run-up. You can't risk bowling a no-ball, especially in this type of cricket.

19:37
Fifty for Rizwan!
14th over: Pakistan 104-3 (Fakhar 21, Rizwan 50) The lime-green shirts are wary of going after Moeen, especially after his first ball spits past Rizwan's bat. Just seven from the over. Not as fluent as he sometimes is but a great innings by Rizwan.

19:32
13th over: Pakistan 101-3 (Fakhar 19, Rizwan 49) Here comes Livingstone with his this-ways-and-that. Poor Malan is thwarted down on the rope by a ball which spins further and further away from his grasping hand and runs away for four. Don't think about it Dawid, though difficult when you're being reminded by a crescendo of vuvuzelas.
"A propos of not much," ponders Damian Clarke. "Mongolia is home to the endangered two-humped Bactrian camel, and is also home to one-third of the world's snow leopard population. Its capital, Ulaanbaatar, is officially the world's coldest capital city. You're welcome."
Updated


19:27
12th over: Pakistan 91-3 (Fakhar 16, Rizwan 42) Brilliant from Moeen, weaving a web: his figures now read 2 overs, 0-9

19:24
11th over: Pakistan 87-3 (Fakhar 14, Rizwan 40) Pakistan decide they're going to have to go after Rashid. And they do! Fakhar sweeps him for four, nearly decapitating the umpire before letting rip with a huge six, the big bopper, into the stands.
Updated


19:20
10th over: Pakistan 72-3 (Fakhar 0, Rizwan 39) It's Moeen Ali, fresh from his success of the other night. Pakistan are playing the singles and a diving Rizwan just beats the throw. Nice from Moeen, just four from it.

19:18
9th over: Pakistan 69-3 (Fakhar 0, Rizwan 35) What a bowler Rashid is: two overs three for 12. It would be so disappointing if Pakistan crumble here in front of huge support. Oh, and this is lovely, we see a fellow go down on one knee in the Party Stand, and she says yes!
Updated


19:14
WICKET! Hafeez c Bairstow b Rashid (Pakistan 69-3)
Hafeez has a lack-lustre pull at a drag down from Rashid and it was never going to clear the long boundary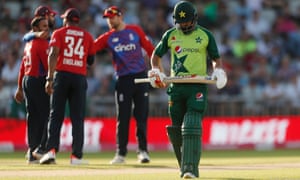 Updated


19:11
WICKET! Maqsood c Roy b Rashid 13 (Pakistan 67-2)
Maqsood can't resist the toffee and manages only to send the ball straight to the waiting Roy at long-on.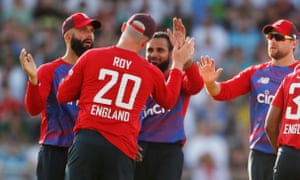 Updated


19:10
8th over: Pakistan 67-1 (Maqsood 13, Rizwan 35) The man of the moment, the bleached Liam Livingstone, has his first go of the evening. And through a puff of dust, Rizwan shuffle-shuffles, greets the ball up, and sends it soaring over cover. Four byes also beat the batsman, and keeper.

19:06
7th over: Pakistan 56-1 (Maqsood 11, Rizwan 30) Better from Jordan, just a handful of singles. A yorker breaks the bottom of Rizwan's bat and the twelfth man is sent out with a selection of new ones.
"What do you think Pakistan will need to post?" asks John Ryan. "Looking at England's line up I'd be thinking 180 plus…"
I think so, this England squad are just so powerful all the way down the order. Though the (deeply unreliable) law of averages says Livingstone is due a failure. Ah, Stuart Broad on commentary says that he'd be happy to defend 170-175.

19:03
6th over: Pakistan 50-1 (Maqsood 8, Rizwan 27) Superb by Rashid to get Babar who just wanted to throw open the windows. Maqsood is off the mark with a cover-drive skimming the grass to the boundary and then an ugly but effective leg-side bit of agricultural heritage. And ignore what I said previously, there are 22,000 at OT – the biggest crowd for any event in Manchester in 18 months.

18:57
WICKET! Babar stumped Buttler bowled Rashid 11 (Pakistan 42-1)
Foiled by the googly, way out of his crease, and Buttler neatly clops the bails off.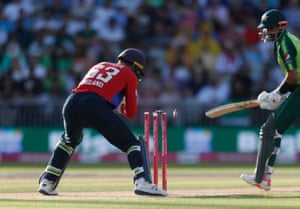 Updated


18:55
5th over: Pakistan 40-0 (Babar 11, Rizwan 26) Saqib's back and Rizwan greets him with the most nonchalant six, a rockstar's toss of the T-shirt into the crowd. Singles make up the rest of the over. My dog has crept behind the sofa to soak up the coolness of the wall. Oh for such a wall in the party stand.
Updated


18:50
4th over: Pakistan 29-0 (Babar 9, Rizwan 16) Incidents, incidents: Jordan bowls his first over and Babar has a wild slash and ball flies past the grasping, diving, glove of Buttler to the boundary. Then a top edge which flies high and Roy, battling blue skies, shadows and a swirling wind, can't get the measure of it.
Broad thinks that bowling in the power play isn't CJs best suit.

18:44
3rd over: Pakistan 20-0 (Babar 3, Rizwan 15) Willey again, penny-pinching again, until the fifth which Rizwan swings and hits – up, up and over for six.
"Hello Tanya," Hello Andrew Benton!
"In a county aside…." I read as your being in a county aside of Lancashire – Cumbria perhaps? Good title for a memoir! But, I have a question. I saw a few days ago that Mongolia has joined the ICC as an associate member – what does this mean for them, do they get into a competition of some sort? Or just a seat in the Zoom meetings?"
Let me get back to you on this! Perhaps at the break…

18:40
2nd over: Pakistan 11-0 (Babar 1, Rizwan 9) The brilliant Mahmood bowls four dots to start the over, this free-scoring duo will be itching for a swing. And here it comes, a four whipped by Rizwan off his hips for four, and the next, just a touch wide by Saqib and is nudged fine.

18:35
1st over: Pakistan 3-0 (Babar 1, Rizwan 1) An absolute wall of noise greets Babar and Rizwan – maybe I was wrong about the fullness of the crowd, hard to tell from the tv pictures. A parsimonious over, a run to third man for Rizwan, then a single to Babar after the ball bobbles on Roy. Then, what seems a regulation catch behind to Buttler, but it comes off the thigh pad. Great start by Willey.
Updated


18:28
Out come England, through the (entirely pointless) shoots of flame, shortly followed by Babar Azam and Mohammad Rizwan.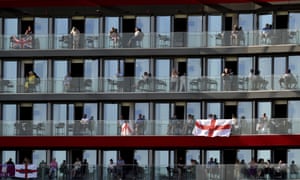 Updated


18:24
An email pings in from Babar Mumtaz:
"There may be fewer Pakistanis in the ground because it IS Eid… A time to be with family (like Christmas… Not Boxing Day. Enjoy the match)"
Ah! Thank you! I hadn't clocked that.

18:20
In a county aside, as we're at Old Trafford, Lancashire's Alex Davies is to join Warwickshire on a three-year contract.

18:17
I heart Stuart Broad with a microphone – he's bloody brilliant.

18:15
There's no space for Jake Ball or Tom Banton – drinks carriers extraordinaire. Which you would guess, means their chances of making the final T20 WC squad are limited. Old Trafford isn't full, but there is a glorious racket from the Pakistan horns and drums. I wonder if the pingdemic has had something to do with it – word of mouth would suggest that anyone who is about to head away on holiday is reluctant to go anywhere they might be contacted by track and trace.

18:07
Pakistan XI
Babar Azam, Mohammad Rizwan, Sohaib Maqsood, Mohammad Hafeez, Fakhar Zaman, Shadab Khan, Imad Wasim, Hassan Ali, Shaheen Shah Afridi, Usman Qadir, Mohammad Hasmain.

18:05
ENGLAND XI
Roy, Butler, Malan, Bairstow, Ali, Morgan, Livingstone, Willey, Jordan, Rashid, Mahmood.

18:04
Eoin Morgan is in a blue sun-hat. He thinks the wickets will take spin and reverse swing. Morgan returns, as does David Willey, and Tom Curran and Matt Parkinson miss out.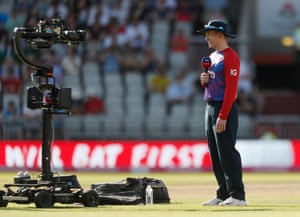 Updated


18:03
Pakistan win the toss and will bat
Babar wins his third toss of the series and will bat – the successful choice at Trent Bridge. Leggie Usman Qadir plays, as does Hasan Ali. Haris Rauf and Azam Khan carry the drinks.
Updated


17:58
Hasan Ali is available for selection for Pakistan. The toss is imminent.

17:54
Zain Malik is first in the box.
"There have been a total of ten T20is played at the Emirates Old Trafford and fortune has favoured the side which chases. Only twice has the side which bats first been victorious. Pakistan happens to be one of them. Mohammad Hafeez's fireworks from last year's final-ball thriller saw Pakistan post 190 which was just about enough to draw the series. There has never been a 200+ score at OT and today is the perfect day to change that. So far in this series the side which has won the toss has ended up on the receiving end. Crucial toss to win. All eyes on the coin. Should be a tough decision from the winning captain. On a side note, Eid Mubarik! This is set to be a series finale for the ages."
Eid Mubarik! And thank you for that handsome research.

17:45
A little reading about some new tournament that is apparently starting tomorrow.

17:45
Preamble
Hello there, on this sauna of a Manchester afternoon . Current temperature: oven-ready, scorching to the bottom of an unshod foot for this deciding game in the T20 series.
Admittedly though, I'm a wimp, and the PSL was played in temperatures hitting 40 degrees, so Pakistan may right this minute be deliberating the benefits of a long-sleeved sweater.
This is the final England game before the preliminary T20 squad is announced, and the jostling for positions is joyous to see. Young bloods full of vigour and old(er) hands determined to stay their ground. Eoin Morgan will presumably play a few more of his jokers today: Liam Livingstone, in particular, but also Moeen, Mahmood and Parkinson have made the most of their opportunities. And what a joy it was to see two English legspinners operating in tandem at Headingley – I hope Parkinson retains his place at his home-ground, the venue for his very own ball of the century in April.
It is also the final game before the first Test which starts on August 4. How many of these young men will make the Test series is debatable, but a few -Saqib Mahmood in particular – have inked their names onto the reserve list.
Updated

Denial of responsibility!
Swift Telecast is an automatic aggregator of the all world's media. In each content, the hyperlink to the primary source is specified. All trademarks belong to their rightful owners, all materials to their authors. If you are the owner of the content and do not want us to publish your materials, please contact us by email –
[email protected]
. The content will be deleted within 24 hours.