Singer, diva, fashion icon, trailblazer, dancer: the five sides of Tina Turner | Tina Turner
Tina the singer: 'She put gravel in her voice'
Skin of Skunk Anansie
It's hard to be a female Black rock singer and not to have been influenced by Tina Turner. There weren't very many Black women around singing rock when I was a teenager and in my early 20s. There was Etta James – I think she's one of the original rock singers – but to actually have loud guitars as well, it was only Tina Turner, really. She also came with this whole persona: the wigs, the stance, the outfits, the legs. But, for me, the most important thing was the grit she had in her voice, the dirt – it was kind of unusual for the music she was singing. She was a writer, but more than that she was an interpreter who could take a lyric to a different level. Her version of Whole Lotta Love brought the sex to it. Not that it wasn't a sexy song, but she puts a lot of woman in there. Then there's Al Green's Let's Stay Together. My parents played that song – I know it intimately. It's a beautiful, gentle R&B song, with perfectly placed notes and phrasing. And then Tina came with a rock voice and gave it a completely different and magnificent energy. She put a lot of voice on it, and gave it much more desperation. Her version is basically: let's fuck. She's more demanding: please, let's stay together. And her voice cracks and they kept that in there – she gave it a different feeling.
She was from an era where you had to be great. They had just a microphone, a voice and a breathing technique. A lot of it came from Ike – there's an awful history there, but in terms of how he developed her voice, he did a fantastic job. She had wonderful phrasing: the way she would drop the note and then find the point of putting the gravel in there.
It's quite a thing to have that gravel in your voice for a long time and not destroy your vocal cords. If you push it in the wrong direction it's going to be difficult to maintain a 60-year career. When I listen to Janis Joplin, it hurts me because I can hear those vocal cords rubbing together! But with Tina, you're comforted by that, it feels natural. She had a lot of control over the emotion, and lyrics were perfectly written for her and her situation. Sometimes, she didn't even particularly like the songs, but she was able to put so much into them. It was the rhythm, the phrasing, and the soulful connection – what am I singing and how am I going to get that across?
Tina the fashion icon: 'She dazzled in sequins'
Chloe Mac Donnell
The first thing an audience saw when watching Tina Turner live wasn't her face as she raised the mic to hit her first note. It was a dazzling light. Even if you were seated in the very back row, you knew Turner had arrived as the spotlight hit her sequin minidress.
For more than five decades, Turner commanded the stage in what fans affectionately called "The Tina Dress", and the longer she performed, the shorter the hemlines became. "There are no rules that say you have to dress a certain way, or be a certain way. We are living in exciting times for women," she said in 2009 as she embarked on her 50th anniversary tour.
While her earlier looks were more demure, it was filing for divorce from Ike in 1976 that was the catalyst for a sexier approach to dressing. "When I look back, I can see the story of my life through the clothes I wore," she wrote in her photo collection That's My Life. "I felt so elegant in my gown, like a princess. But that gown was a prison, just like my marriage. I wanted to move, so my skirts got shorter and less constricting because freedom was important to me, on stage and in life."
She began to work closely with American designer Bob Mackie, who also worked with Diana Ross and Cher, and it was Mackie who put Turner and Cher in those instantly recognisable matching flame-emblazoned dresses for a special joint performance on The Sonny & Cher show in 1977. Later, when Turner embarked on her first solo tour, he updated the dress with a giant orange feathered cape.
This flamboyant and theatrical style was a precursor to that of performers including Prince, Madonna and more recently Beyoncé, whose current Renaissance tour features a plethora of Turner-esque looks, and as Turner continued to grow in confidence, her style became even more liberated. She commissioned Mackie to create a costume featuring giant silver wings that fluttered as she glided around the stage. "I felt like I was flying, and I was – on my own and free for the very first time," she said.
Later came the cinched leather corsets, double denim and those Private Dancer fishnet tights, but for her final tour in 2009 she returned to her first love, sequins. Descending a towering staircase in a floor length gown, as the opening notes of Addicted to Love began to play, Turner whipped off the gown to reveal a thigh-skimming, sparkling brown mini dress underneath. The dazzle – literal and metaphorical – was as blinding as ever.
Tina the diva: 'She embodied hopes of triumph'
Laura Snapes
When Ike Turner realised he would be a fool not to let the vocal powerhouse Anna Mae Bullock join his band, he forced her to take the name Tina Turner and trademarked it in case she left and he wanted to reassign it to a replacement singer. They married in 1962 but divorced in 1978 as a result of Ike's longstanding violent abuse, and Tina walked away with just two cars – and the rights to her name. Whereas Ike saw "Tina Turner" as a generic mould to be filled, Tina was able to imagine herself beyond the bounds of what he had seen for her to forge the start of a defiant second act – one that would rapidly reverse the music industry's declining interest. It's probably no coincidence that Bob Mackie styled the Tina of this era as a phoenix.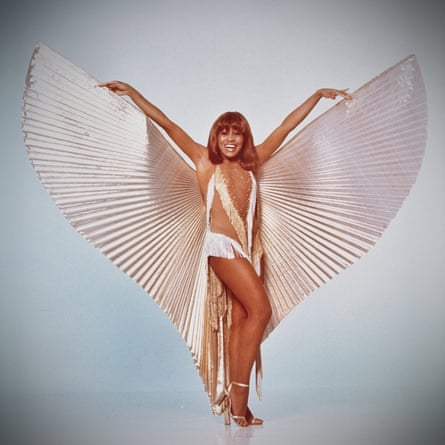 It's this self-creation in the face of limited imagination that should be our working definition of what it means to be a diva. It's the inverse of the prevailing misogynist notion that any successful female musician must have ideas above her station: how dare she affirm her talent, exert control over her career, or conspicuously enjoy the spoils of her success? That idea is often based in racism and classism, a patriarchal attempt to minimise the perceived threat of particularly working-class and Black women attaining power on a par with men – it's no surprise that diva as a pejorative has most often stuck to the likes of Mariah Carey, Whitney Houston and Rihanna.
Although many of our most famous divas have ironclad exteriors, divadom is also not about being invincible, a perception that Turner herself refuted. "I don't necessarily want to be a 'strong' person," she once said. "I had a terrible life. I just kept going." Endurance is key to divadom and it's this humanity, not perceived self-aggrandisement, that has elevated the diva to cultural royalty: divas embody our hopes of overcoming through joy, particularly for audiences from marginalised backgrounds. That's what it really meant to be Tina Turner, she said towards the end of her life, and in turn to be a diva: having achieved "true and lasting happiness", it was her "greatest wish to help others become truly happy as well".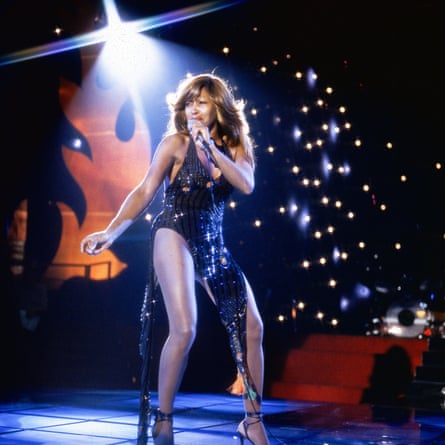 Tina the trailblazer: 'She sweated, screamed, pulled faces'
Nova Twins
Tina's legacy will ricochet through to younger generations, who will look at those videos and be inspired all over again. You don't often get an artist, especially a woman, who performs with such edge. She wasn't trying to be cute on stage – you could see the hard sweat, the angst, the faces she would pull. Especially back in the days when she started out, women were supposed to be petite and polite, with their makeup perfectly set. Tina transcended that and she inspires us. Like her, we want to be in the moment, sweating, feeling like we're delivering a performance, not worrying about anything else. We want to capture that feel and feminine approach to energy, fierce and exciting. In rock today, it's so great to see more women and non-binary people have that approach. When we first started it was a bit like: "Scream less, be more hip-hop."
Pop is sexist, but it's ageist, too – it takes teenage girls and says that's where your career should start and end. But Tina's career really took off in her 40s. She is testament that women can be successful later in life.
Women aren't set up to be headliners, especially Black women. With so few names we could reference, Tina definitely helped us and the next generation feel less isolated and lonely. No one can match her but if we can take a little bit of Tina going forward, that's such an amazing thing. She teaches you to be your true authentic self, and that when you're in the music, let go and enjoy yourself.
Tina in the studio: 'She just couldn't stop dancing'
Johnny Douglas
Labels chase after whoever is having the hits of the moment. By 1999, when I worked with Tina Turner on what would be her final solo album, Twenty Four Seven, Cher had just come out with Believe, the song of the year. Record labels thought: "This is great! We can pull out some of our past stars and reinvent them for the kids." I very much wanted to make a Memphis old soul raw record with her, but the label wanted modern tunes.
Recording her was very hard, because in the studio, a singer has to stay on the microphone, and Tina just couldn't stop dancing. The voice was moving to the left and right, off mic. We had to keep stopping her moving! But that was the level of energy and joy she had. She was genuinely excited to be in the studio, at an age when most artists want to sit by their pool and count their millions.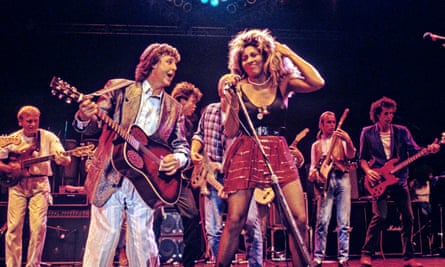 I could tell her if she was going off mic, if she'd got some of the phrasing wrong, but someone of that calibre who's been doing it that long – they don't need much guidance. I'd come off the back of working with all these boybands and girlbands, and they very much did need word-for-word coaxing, and comping, and this technical stuff to make them sound good. But Tina had been recording for decades, she totally knew what she was doing. Even if the music was more modern than she was used to, she had no problem just being her, and sitting on the track. It's weird when you work with people you grew up with, and they open their mouth and it's like: fucking hell, that's Tina Turner. It's not like you need a magic box to put her vocal through to make her sound like that – it's just how it comes out. You're always aware of the legacy that's come before you and you feel this immense pressure not to fuck up, or do something that doesn't sound like her. I had Simply the Best going round my head, thinking: I've got to get somewhere close to this level of genius.
We all know Tina's talent and hit records, but what a lot of people don't realise is what an incredible human being she was. I've worked with hundreds of artists – so many I can't remember, some lovely people and some horrors – and she is far and above and beyond the nicest one I've ever worked with. Working with her was almost a religious experience. There was a white light of positivity around her. She was about 60 by this point, but had more energy than the 18- to 21-year-olds I was working with. There was no bitterness to her, considering what she'd been through; the artists who have to endure hardships and battle to get where they are have real substance. She had this smile and infectious laugh – you got the impression that Tina never had a bad day. And if she did, she could just brush it off like it was nothing.
There was humbleness as well. She told me: "I don't even consider myself a singer. I'm a dancer!" She was so grounded. And she had this spirituality to her without harking on about spirituality. The level of energy, light, joy – there seemed to be no darkness in her.
Interviews by Ben Beaumont-Thomas
Denial of responsibility!
Swift Telecast is an automatic aggregator of the all world's media. In each content, the hyperlink to the primary source is specified. All trademarks belong to their rightful owners, all materials to their authors. If you are the owner of the content and do not want us to publish your materials, please contact us by email –
swifttelecast.com
. The content will be deleted within 24 hours.