Peterborough mayor's 2018 swearing in ceremony just beginning of the swearing
Article content
Just call her Mayor F-Bomb.
Article content
But don't call Peterborough Mayor Diane Therrien shy about saying how she feels about people bringing their demonstrations into her city. She got especially profane about a group of people weirdly going to the Peterborough police station to arrest police!
When they swore her in as mayor of Peterborough in 2018, voters did't realize there would be more swearing come.
Needless to say things got dangerous Saturday in a wild scene. A melee broke out in which two people were physically taken down when police grew concerned they were too close to their car. Police Chief Tim Farquharson, who said more arrests could come, added another is alleged to have tried to kick in a door to the station.
WARNING: Video below contains offensive language
Article content
This all stemmed from a visit in her RV from mysterious British Columbia activist Romana Didulo, dubbed the "Queen of Canada," who the CBC has described as a QAnon style conspiracy theorist who has been protesting government COVID-19 vaccine policies.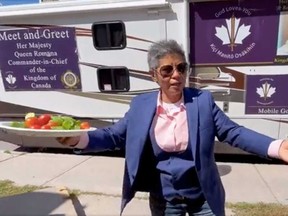 "Somebody is funding these protests because it takes money to move from town to town," said a local politician who asked to be not named. "It's well organized."
This time, followers went to the police station, openly saying they were going to arrest police. 
It did not go well. Therrien, who is not running for re-election in October, didn't hold back.
"People have been asking me to comment on the events of the past weekend in #ptbo," she tweeted Tuesday. "I hate giving airtime/spotlight to these imbeciles. Here is my comment: F— off, you f—wads."
Article content

So does she get a A for telling it like it is or an F?
There are different views on it.
"Straight to the point without ambiguity. Good job, Mayor Therrien! About time somebody told them," William Babin wrote on Facebook.
"But Diane, tell us how you really feel?" added Michael Rudder.
Others were not impressed.
"Mayor of Peterborough, keeping it classy!" wrote Kevin Krestinski on Twitter.
"God, October cannot come soon enough," added Andrew Glynn.
The debate is on. There is no debate that this is not the first time Her Worship has showed her salty side. As I wrote in the Toronto Sun in 2021 about an upcoming "freedom" protest planned for Peterborough by then MPP Randy Hillier and People's Party of Canada leader Maxime Bernier, the mayor was unequivocal.
Article content
"Hey @randyhillier @MaximeBernier I know you boys are bored but" the mayor tweeted, adding a photograph of herself with a written quote in a bubble saying "Stay TF home" while also tweeting the "travelling clown convention isn't welcome here."
Article content
Later the city's integrity commissioner ruled those tweets were free speech and not contravening any rules.
The feisty mayor has yet to return a request for comment from the Toronto Sun but told John Moore on Newstalk 1010 Wednesday morning, "we need to be unafraid to say it like it is" and "these imbeciles have been wreaking havoc across the country."
Peterborough has seen other uncomfortable protests this year, including the aggressive heckling of NDP Leader Jagmeet Singh.
"Ugly" is what the mayor called it.
But on the protesters going to arrest police, the mayor said "what did they think was going to happen?"
She's got that right. It certainly was an foolish and unsavoury idea and unfair to the cops who have played no role in government vaccine policy decisions. That said, the SIU has said it is investigating the serious injury to one of the two people they arrested.
In the aftermath, the Peterborough mayor told Moore "enough is enough" and "people are fed up" and need to speak out.
Even with curse words.
Denial of responsibility!
Swift Telecast is an automatic aggregator of the all world's media. In each content, the hyperlink to the primary source is specified. All trademarks belong to their rightful owners, all materials to their authors. If you are the owner of the content and do not want us to publish your materials, please contact us by email –
swifttelecast.com
. The content will be deleted within 24 hours.