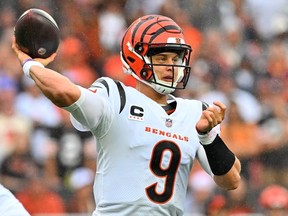 Article content
This story begins with the moment I first saw the NFL refer to Joe Burrow as "#daddy."
Article content
"Oh my God, you look so good, I'm obsessed," moaned a female voice accompanying a TikTok video posted by the NFL's verified account to its 11.2 million followers in May, around the time teams started their offseason workouts. The five-second slow-motion clip featured Burrow wearing a tight black tank top that showcased his sculpted arm muscles as he threw a football. The caption read "Good lord" and added a tongue-out sweating emoji alongside the #daddy hashtag, internet slang for a very attractive man.
Article content
"NFL social admin is in heat," one fan commented.
"Hope we're ok," the NFL social admin replied.
Since last fall, when the TikTok algorithm gathered that I enjoy watching NFL games on Sundays, I have become one of the many football fans inundated with similar videos, or "thirst traps," of the 26-year-old Cincinnati Bengals star quarterback: Burrow smiling, Burrow stretching, Burrow spitting on the field in a manner that resulted in feral responses from admiring fans.
Article content
Spectators have been crushing on quarterbacks for as long as the game has been around, but this was the first time I noticed the NFL's official TikTok account get involved. (I had missed the video of Burrow they posted during the playoffs in January that featured him on the field, with audio of women screaming "Daddy!" in the background.) Seeing this league-sanctioned lust sent me over the edge. What . . . did I just watch? Granted, professional sports social media accounts are often given license to be weird – but when did the NFL, which for decades has benefited from the objectification of its masculine warriors without directly exploiting the sport's sex appeal, get the thirst, as well?
Part of my BurrowTok fixation is admittedly rooted in the fact that my family includes three generations of Pittsburgh Steelers fans, and I am conditioned to be filled with rage at the sight of any Bengal, our rivals. Still, I find it fascinating that Burrow has emerged as the breakout football star on the world-dominating app, which has many videos of users drooling over various NFL studs: Jimmy Garoppolo, Travis Kelce, Jalen Hurts.
Article content
But none are on the level of Burrow; the #JoeBurrow hashtag has 2.4 billion views, nearly double Kelce's and far outpacing the others. While not all of the TikToks are as, um, thirsty (some are hype videos, many admire Borrow's bold fashion, while others even showcase his actual football skills), it's notable that the NFL is excited to join the Burrow-as-heartthrob narrative.
That is, excited on TikTok. After multiple requests for comment, an NFL spokesman declined to make the league's social media team available to answer my questions about the #daddy videos and sent this statement: "Joe has clearly established himself as one of the bright young stars of the NFL. It's not hard to see why he is an immensely popular figure on social media." A representative for the Bengals, whose social media department is more reserved but does post glamour shots of Burrow with a wink at fans figuratively (sly captions) and literally (winking-face emojis), had no comment.
Article content
Sports media has spotted this trend: "TikTok users are incredibly hot for Joe Burrow," read one headline; "Joe Burrow thirst is raging on TikTok and y'all should be ashamed," reported another. Surely Burrow has noticed, though his agent did not respond to my requests for his comment. Is he flattered? Indifferent?
Sometimes, athletes are disturbed by such attention: Hockey player Alexander Wennberg recently became a favorite of "BookTok," the TikTok literary community, among fans who read hockey romance novels. His team, the Seattle Kraken, created videos where they promoted and joked about Wennberg's popularity on the app. But this summer, the Kraken social media department deleted all posts on the topic after Wennberg and his wife released statements that said fans had "crossed the line" with their comments, which felt like sexual harassment.
Article content
In March, NBC's "Today" show asked Burrow about the deluge of videos of himself, but he laughed it off. ("Today" used the opportunity to post its own TikTok of Burrow with the caption "Suddenly we're into football . . .," while SZA's song about dating "big boys" played in the background.) "Oh, you know, I'm glad I have fans," Burrow said, smiling. "I can't say I frequent TikTok very much, uh – but it's always exciting to get new fans."
Football season is now upon us. Burrow just became the highest-paid player in NFL history with a five-year, $275 million contract extension. The Bengals have had a rough start, losing their first two games; nevertheless, the TikToks have started up again. As new fans zoom in on quarterback cheekbones and quarterback arms and quarterback posteriors, choosing steamy music to accompany steamy video posts, I decided to investigate. (And let's be perfectly clear: You're reading the Style section, not the Sports section.) I had to know: Of all the good-looking, charismatic football players, what is it about Joe Burrow?
Article content
RECOMMENDED VIDEO
Like any story idea that initially prompts my colleagues to laugh in my face, this one needed science – and luckily, science has been studying human attraction for decades. Even better, some scientists have spent considerable time researching the attractiveness of quarterbacks.
Jennifer VanGilder, a labor economist and professor at Ursinus College in Collegeville, Pa., had a brief moment of internet fame around 2009 when she and several colleagues published a paper titled "What does it mean to find the face of the franchise? Physical attractiveness and the evaluation of athletic performance." It was a fancy of way of saying that they conducted a study to measure quarterback hotness to see if the good-looking players got paid more money, and the media absolutely loved it.
Article content
"I think it's because it's something that everyone can kind of relate to," VanGilder said. "We as humans try to make objective decisions, but we know they're always shadowed by subjectivity. . . . To see that there's a way to objectify the subjectivity is super interesting."
She worked with sports economists David J. Berri and Robert Simmons, and found software that could measure facial symmetry, which has long been considered the scientific baseline for attractiveness. After running NFL headshots through the algorithm and completing their analysis that controlled for actual football performance, the thesis was confirmed: "A better-looking quarterback generates a substantial salary premium over an equivalent worse-looking player."
Article content
"It's troubling from a labor economics standpoint but understandable from a selling standpoint," VanGilder said. "And that's what the NFL is trying to do – they're trying to sell, trying to entertain."
For this story, VanGilder ran the faces of 17 current NFL quarterbacks through three apps that measure face symmetry. The results varied, and some quarterbacks were more consistently ranked than others – but let's just say that the internet wouldn't be shocked to learn who was the most consistent.
"My main takeaway about Joe Burrow is that no matter what measurement tool is used, he's near the top. . . . Joe Burrow is consistently symmetric," VanGilder said. "The fact that these TikTokers are drawn to him is not surprising."
Article content
Burrow's consistently symmetrical face isn't the only thing boosting his social media stardom. His origin story is the stuff of legend, or an inspirational '90s sports movie: Growing up in Athens, Ohio, he made the Ohio State team only to sit on the bench for the majority of three years. He then transferred to Louisiana State University in 2018, where the following season he went undefeated, won the National Championship Game and won the Heisman trophy. After the championship game, a photographer snapped an instantly epic picture of Burrow looking very Hollywood with his hair tousled from his helmet, smoking a victory cigar while still wearing his uniform.
Next he returned to his home state to play for the Bengals – the worst team in the NFL – as the top draft pick. He led them to their first playoff win in 31 years, a shocking turn of events that made long-jaded Bengals fans cry. They narrowly lost to the Los Angeles Rams in the 2022 Super Bowl, but Burrow was cemented as a Cincinnati icon.
Article content
And so, as I have now heard repeatedly, Burrow is just . . . cool. Specifically, he's "Joe Cool" or "Joe Brrr." He's become a fashion icon, thanks to those rose-colored Cartier sunglasses and his SpongeBob SquarePants coat. Many TikToks are devoted to roundups of his custom suits. Whether he's on the field at the Super Bowl or onstage at a Kid Cudi concert, he just seems chill. Which, of course, fuels the TikTok frenzy around him even more.
"Joe has this aura, this 'it' factor," said Scott Burson, co-author of "From Bulldog to Bengal: The Joe Burrow Story Through the Eyes of His Hometown." Even those who knew Burrow in his early days can't quite explain his universal appeal, he said: "They'll say, 'We don't know. Joe is just Joe.'"
Article content
For Bengals fans, the attention on their quarterback has been both gratifying and overwhelming, particularly for a team that doesn't receive much national attention. The Bengals fan base is "absolutely crazy" about Burrow, said Cincinnati native Niklas Bauer, one of the moderators of the popular r/Bengals subreddit, where fans are certainly aware of his thirst-trap status online.
"When I told my wife I had this phone call, she said, 'I mean, yeah – have you seen his face?' For her, that's the beginning and end of the discussion," Bauer joked.
"It's weird because we felt like one of the forgotten teams in NFL. . . . We were that team that never won anything, so why would people care about us? Then all of sudden, we have this guy who's attractive, and he just goes about everything with a cool, calm demeanor – everybody wants to latch on to things that he does."
Article content
Connie Bruno, who started the Cincinnati Bengals Ladies Fan Club on Facebook last year, emailed me a list of Burrow's attributes that all start with "c," including "cute," "confident not cocky," "comfortable in his own skin" and "charitable" – like many Ohio residents, she appreciated that during his Heisman speech, Burrow raised awareness about food insecurity in Athens. Other Bengals fans point to how he also publicly supported the Black community during the Black Lives Matter protests, posted an abortion rights message on Instagram, and urged gun control reform, drawing even more attention from the Gen Z fan base.
America, as you might have noticed, has always been obsessed with quarterbacks. Many sources for this story pointed out that while this TikTok treatment would spark outrage if it were about a female athlete, hyping up a quarterback as a sex symbol is nothing new.
Article content
"Think about Joe Namath," said Berri, the Southern Utah University professor who co-authored the paper with VanGilder. "Joe Namath, statistically, did not have the greatest career in the world – but he looked really good. And that made a big difference in his career, I think."
Namath, known far and wide as the jet-set, swinging "Broadway Joe," parlayed his decade with the New York Jets in the 1960s and '70s into commercials and TV appearances. A lot of this was about his sex appeal. He's far from the only quarterback who has fascinated the celebrity press: The tabloids couldn't get enough of Tony Romo dating Jessica Simpson and Carrie Underwood in the early 2000s. Russell Wilson and Aaron Rodgers saw similar coverage when they married and dated celebrities, respectively, and gossip sites were very excited this year when Josh Allen was spotted with Hailee Steinfeld. Hurts was recently on the cover of Essence magazine. Tom Brady, to whom Burrow is frequently compared, got the matinee idol treatment, famously posing for a GQ spread cuddling a baby goat.
Article content
All along, however, the NFL has never packaged or marketed its athletes as participants in a beauty contest. In fact, the league has assiduously avoided talk of attractiveness or desirability as a factor to success. Whatever lust spectators have for players used to depend entirely on human nature. Whatever stereotypes or ideals or desires accompany the sport, it has been long understood that that's on us, the fans.
"We've seen [the NFL] glorify players in the past in different ways . . . but I've never seen it to the point of them playing into the sex appeal of an athlete," said Felipe Fontes, social director at sports entertainment company the Game Day and co-host of the "Caps Off" podcast. He noted that when the league showcases the human side of a player, it's generally about their performance on the field – coming back from an injury or perseverance after a loss. "But it's 2023, and TikTok is massive. . . . I think it's just the perfect storm as Joe Burrow is ascending in this magnitude as an elite quarterback."
Article content
In 2016, Sports Illustrated executive editor Jon Wertheim and Tufts University psychology professor Sam Sommers co-wrote the book "This Is Your Brain On Sports." One chapter dove into the stereotype that quarterbacks are the most handsome players on the team, an idea reinforced by Hollywood. To test this, the authors conducted a "superficial" study where people rated photos of quarterbacks, wide receivers and defensive backs without knowing who they were.
To everyone's surprise, the QBs ranked last among the three positions. Wertheim and Sommers theorized that we are all primed to think quarterbacks are attractive because of the "halo effect," where they are seen as the leaders or the stars of the team, and that automatically gives them a boost.
Article content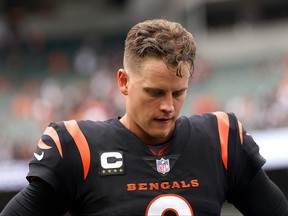 "It has a place in the lore of Americana . . . the quarterback is big man on campus, the leading man," Sommers said. "It does seem to be a well-worn trope."
Wertheim has another theory: Not only are quarterbacks the center of attention, which gives their role an "inherent sexiness," but it's also about logistics – they get a lot of camera time on the sidelines, often without wearing helmets. Based on seeing how many TikToks involve Burrow on the sidelines with fans zooming in on his face and thanking the camera operators for their hard work, it seems like a definite possibility.
Wertheim added that all of this focus on Burrow is an unexpected bonus for the NFL, because one of its smallest-market teams became home to one of its biggest stars. Maybe, he said, this is all an example of how social media is the great equalizer.
Article content
"TikTok doesn't care if you sell out your seats or never won a Super Bowl," he said. "This is not a big-market team, this is not a valuable team by NFL standards – but TikTok doesn't care about any of that."
Ogling quarterbacks may be an American tradition, but one significantly new aspect is the TikTok of it all, where trends can quickly spiral into bizarre territory. Commenters are typically delighted by such behavior, such as the ones on the NFL Burrow #daddy video from May: "I'm cackling." "I know they know damn well what they're doing lol y'all are cracking me up." "The NFL knows how to make a thirst trap." "NFL admin deserves a raise for this one."
RECOMMENDED VIDEO
Though football is regarded as a male pursuit and pastime, several sports marketing experts reminded me that according to the NFL's data, women make up 47 percent of its fan base. But they largely dismissed the idea that the league pushing the quarterback "sexiness" factor was to appeal to women specifically, and argued that thirst traps on TikTok are simply an appeal to general internet trends.
Article content
Many NFL TikTok accounts are known for bantering with commenters, similar to any brand that knows the best way to gain followers and go viral is making your social media account sound like a real, funny person. Amie Kiehn, a former assistant director of social media for the Carolina Panthers, said she had to check in with the legal department about posting certain content, but she and her colleagues had the freedom to be weird. In early 2021, for example, the Panthers TikTok account commented on every video they could find about Olivia Rodrigo's viral hit song "Drivers License."
"Should an NFL team, if you had a rule book, talk about Olivia Rodrigo? Probably not," Kiehn said. Fans were confused but found it hilarious – and the Panthers, who went 5-11 that season, gained 66,000 followers at the height of the "Drivers License" craze. "But that's how social media is: It's a blend of culture, content and trends. . . . It goes to show you, sometimes taking quirky risks can introduce you to a new audience."
Article content
Some people I interviewed for this story were amused that the ultra-corporate NFL (nicknamed the "No Fun League") has a TikTok account that capitalized on the popularity of the "Barbie" movie by posting a slide show of Burrow photos with a caption about his "Kenergy" and soundtracked by audio of women screaming "I love you!"
But even the most buttoned-up brands know they need to get on board with Gen Z and Gen Alpha, experts said. "That audience is key of the future of this sport to grow and flourish," said Karim Fathi, vice president of digital at global sports marketing agency Sportfive. "The younger generation as a whole is more attracted to the human aspect, where they can not only follow a team whenever there's a game, but following individual athletes."
Article content
Of course, not every player wants such attention; Kiehn said she would ask players if they were okay with certain posts and didn't want to make anyone uncomfortable. "I think it just depends on the athlete," she said.
Lia Haberman, a former social media manager for lifestyle brands, has followed the discussions about whether brands should be "unhinged" on social media apps. She agrees to an extent but says it's inappropriate for corporations such as the NFL to be commenting on anyone's looks or to sexualize their players.
"I think the NFL and the Bengals also can give a wink and a nod to the trend without actively actually participating in it," Haberman said. "It's always in good fun until someone gets offended, and then all of a sudden you need to backpedal."
Article content
Though I tried multiple times to ask the Bengals and Burrow's agent for insight into how he feels about this, I was unsuccessful. By all accounts, Joe Cool doesn't let much bother him.
My investigation ends, alas, with unanswered questions about the future role sex appeal and tawdry social media techniques might play as official marketing tools. (And, in the course of reporting, I've sent a lot of emails with an embarrassingly high usage of "#daddy" in them.) But one thing changed: I used to scroll right past BurrowToks, annoyed; my Pittsburgh relatives would be proud. Then I noticed the joy he brings to others. I now watch the videos in full.
One recent TikTok showed Burrow wearing sunglasses on the sidelines, smoothing his hair and putting on a backward baseball hat. "Joe burrow szn is back, baby!" the caption read, as "My Boyfriend's Back" played as the audio. It was eight seconds long and had 3 million views.
And like 315,000 TikTok users before me, I, too, clicked the heart button.
Denial of responsibility!
Swift Telecast is an automatic aggregator of the all world's media. In each content, the hyperlink to the primary source is specified. All trademarks belong to their rightful owners, all materials to their authors. If you are the owner of the content and do not want us to publish your materials, please contact us by email –
swifttelecast.com
. The content will be deleted within 24 hours.