Wimbledon: Novak Djokovic v Matteo Berrettini, men's singles final – live! | Sport

14:53
Djokovic 5-3 Berrettini* Is Djokovic the greatest big-match player in the history of sport? There's just never any doubt what's going to happen when he reaches a final: he may lose, but he probably won't and whoever beats him needs to play like God's dad. He's only been beaten once in a five-set final, by Murray in the 2012 US Open, and Berrettini is really struggling with him, netting an overhead then a forehand. His serve yanks him back into the game, but when another forehand hits the net we wind up on deuce. Berrettini does really well to find two big first serves, but cleaning up the second he clatters his forehand long – I can't prove it, but believe against any other player he makes that in his kip – and a similarly weak wide backhand raises set point! Berrettini, though, finds another huge serve to save it, but he just can't close out – we go backwards and forwards between advantage and deuce, the seventh one raises when Djokovic wallops a return directly onto line and laces. Even if Berrettini loses the set, winning this game would give him a fillip, and to arrange his latest game-point he slings down a 122mph second serve – that looks to be his only viable tactic, because he doesn't have the placement or spins to rely on it against this opponent. And it works out into a hold that sends the crowd wild. But what does – what can – Berrettini do now?
Updated


14:40
*Djokovic 5-2 Berrettini Djokovic holds to 15 and it's just absolutely revolting how incredible he is. Berrettini needs to come up with something, because this just isn't close at the moment.
Updated


14:38
Djokovic 4-2 Berrettini* Berrettini opens the game with an ace, and though Djokovic then crouches to return, off balance, before sprinting in to make a winner, it's soon 40-15. Djokovic, though, keeps making him hit balls, and a slice into the net livens things up before Djokovic goes long. Still, though, this is all Djokovic – Berrettini is only getting 50% of his first serves in and has won just 3/10 on his second. Andrew Castle suggests he enjoy a giggle with the crowd, which will definitely sort things. Someone should send Chris Whitty to Wimbledon.

14:35
"Was at Centre Court for the semi-final," says Lee Woodard. "Novak was not dialled into Shapo's serve for a set and a half. 15 minutes into this final he looks like he is picking up Berrettini's serve already. At this rate, plenty of time to prep for Euros later."
Yup, this looks grim – already it seems like Berrettini's best set-winning hope is six holds and a breaker.
Updated


14:33
*Djokovic 3-1 Berrettini Berrettini needs to land more first serves – I mean, every player does – but Djokovic is climbing into his second, so maybe he needs to go fo mo as Boris advised. In the meantime, he wins the battle of wits at the net only for his hands to let him down, flicking a forehand wide with Djokovic wrongfooted. Seconds later, a love consolidation is complete and already, Berrettini has problems.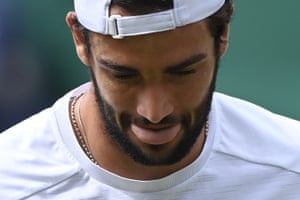 Updated


14:31
Djokovic 3-1 Berrettini* Yup yup, Berrettini opens the game with his first ace of the match, only to clump a backhand slice into the net. Another netted backhand follows and suddenly he's under pressure, so he reminds himself that he doesn't mind and clattered a service winner down yon T. Thing is, once Djokovic returns serve and gets into the rally this isn't an equal match and he does just that to elicit another error for break point; Berrettini saves it with a gigantic serve, ctrl C, ctrl V. Well we might need it immediately because when Djokovic gets a look at a second serve, he hammers it back then advances to disburse a forehand winner … and again, only this time Berrettini hooks a forehand wide! Djokovic breaks, and this looks ominous.

14:25
*Djokovic 2-1 Berrettini Djokovic nets a drop and neither player has quite settled, which is a chance for Berrettini because if both play at their maximum he loses. And a double comes next, then he rushes in with a chunk of court available, Djokovic marooned at the net … only to hit it with his backhand! That is a tremendous oversight, and a long forehand ushers Djokovic to 30-all. An ace follows, then a service winner, and we're getting there.

14:21
Djokovic 1-1 Berrettini* Berrettini opens with a service winner, then wins a short forehand rally, but more importantly I've just noticed that he's wearing Lotto shoes. Beautiful. Anyhow, we wind up at 30-all so this is an early test that Berrettini saunters through, a big first serve backed up by a forehand and an overhead; another service winner follows.

14:17
*Djokovic 1-0 Berrettini Djokovic opens with a double, absolute bottler him, and the second serve that opens the next point would shame Walter the Softie. But Berrettini whumps a forehand into the net, then Djokovic sticks one wide – a pair of bottlers – and a glimmer for the Italian, who quickly stamps it out with a netted backhand. And oh my days, another double from Djokovic hands Berrettini a 30-40 he's done nowt to earn but exist; naturally, Djokovic responds with a service winner down the T. In the semi, Shapovalov managed 11 break points and took only one, a cautionary tale, and Berrettini misses out on a further tame second serve so that Djokovic eventually staggers to his hold.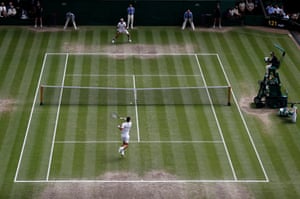 Updated


14:10
I wonder what Berrettini will be targeting – it's not like Djokovic has any weaknesses. Boris reckons he needs to take chances on his second serve, but otherwise, maybe he'll look to draw him in with slice, because he can't outlast him in the rallies nor can he hit enough winners to ending them on a regular.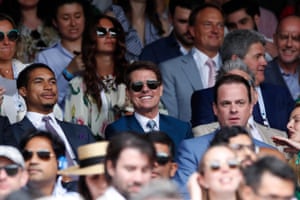 Updated


14:06
On which point, Berrettini is the first Italian to make a Wimbledon singles final – decent day for the boot, eh. And what a day for Marija Cicak, the first female umpire of the same. Change is coming, even to the All-England Club.
Updated


14:03
Centre Court is full, loads of zany gagsters in situ I trust. Come on Tim!

14:02
"Berrettini is probably the most physically intimidating player since Boris," returns Calvin. He's huge, and uses it. Also, notice how he didn't celebrate winning the semi as if he'd just won the title. No dropping to his knees, no tears. That wasn't his final. He means business and he's going for the big one on Sunday. A proper warrior. Don't write him off."
That reminds me of when: when Real Madrid won the Champions League in 2000 and Roy Keane noted that Raúl wasn't crying or any such thing, as if to say "I deserve this, this is me."

14:00
Goodness me, Berrettini's dad Luca already has a hand over his eyes and I'm not surprised. I've no idea how you cope when your kid does something like this, my eyeballs would be permanently sweating never mind during the actual match.

13:57
Calvin actually said that Berrettini might need to win something soon, because behind him are players who might go on to better. We saw one of them, Denis Shapovalov, push Djokovic on Friday, and although he lost in three, he's got a well-rounded game that is sure to improve. Other hand, Berretttini's best attributes are already right there and his backhand ought to be better by now. We can be sure that Djokovic will interrogate its precise current location.
Updated


13:52
Calvin Betton, our resident coach, gets in touch with his thoughts on the final: "I think Djokovic will win," he says, "but I do give Berrettini a chance. He's got the two biggest shots on the court in his serve and FH. And he won't bottle it. The issue is he's only beaten one top 10 player all year, a well out of sorts Thiem."
That is a good point: maybe the best players are good enough to cope with the power.

13:49
"What is the deal with Ash Barty?" asks Shankar Mony. "Why is she so beloved? Please don't get me wrong, she seems perfectly nice, but so do Halep, Osaka, Pliskova, Kerber and others not named Serena who do not have a nasty streak. How come Barty seems to have cornered this nice girl market? What am I missing? I ask not to provoke, but out of genuine curiosity."
Er, I don't think she's cornered the market – I love all the others you've named – but she speaks with candour about things that are interesting, represents something bigger than herself, appreciates what she has, and loves what she does. It's a heady, infectious mix.

13:45
Berrettini tells BBC that he copes with the stress of competition by reminding himself that he doesn't get stressed in such circumstances. Simple when you think about it, eh?

13:44
On 5 live the other day, Pat Cash said that Berrettini's serve and forehand is bigger than any he's ever seen before – and he's seen a few. I can't wait to see how Djokovic, the best returner ever, copes with that, and he copes with that, and how he copes with him coping with that, and how he copes with him coping with him coping with that.

13:26
Email! "Unfortunately, Gordon Reid has lost the men's Wheelchair Singles in straight sets to Belgium's Joachim Gerard," says Chris Page. "But history is being made today by the women's Wheelchair Singles being played on Court One."
That's great to hear. I'm in awe of all these.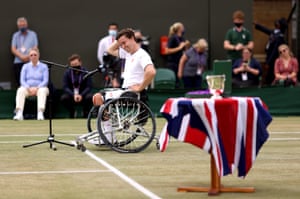 Updated


13:24
Ah man, I love Ash Barty, but then who doesn't? What a life and what a legacy that must be. No wonder Djokovic is so driven.

13:00
Preamble
If Novak Djokovic never wins another tennis match in his life, he's an all-time great and maybe the all-time great. Whether his best is the best is up for debate, but no one is or has been harder to beat on the biggest points and biggest occasions.
Thing is, Novak Djokovic is going to win many, many more tennis matches in his life – but few as important as today's. A win here gives him his 20th major, takes him level with Roger Federer and Rafael Nadal at the top of the men's game, and leaves him on the cusp of a calendar-year grand glam that would stand forever as one of the most ludicrous achievement in the history of sport.
Thing is, Novak Djokovic isn't just competing for the Wimbledon title, the all-time list and the grand slam, but an even more precious and elusive reward: the love and respect of the masses.
In the 70s and 80s, the crowd had a weird relationship with its heroes – on reflection, as weird a relationship as you'd expect – with Connors, McEnroe, Navratilova and Graf not properly appreciated until they started losing. What could possibly be less couth – less Wimbledon – than seeing off all-comers with attitude, personality and style?
There's more – and less – to it with Djokovic, but nevertheless this is where Matteo Berrettini comes in. A natural grass-courter, he is mentally monstrous, gave plenty when the two went the distance in Paris, and has a serve-forehand one-two that breaks the Geneva Convention. If anyone can stop the unstoppable, he can.
So perhaps today is win/win for Djokovic: if he wins he wins, but if does not, tearful defeat will hit a groove that might finally establish him as A Nice Guy. This is going to be intense; welcome to Wimbledon day 13!
Play: 2pm BST
Denial of responsibility!
Swift Telecast is an automatic aggregator of the all world's media. In each content, the hyperlink to the primary source is specified. All trademarks belong to their rightful owners, all materials to their authors. If you are the owner of the content and do not want us to publish your materials, please contact us by email –
[email protected]
. The content will be deleted within 24 hours.