"He was just a bit bland," my mum once said of an ex-boyfriend. "A bit vanilla," she went on, as if she'd not made herself clear enough. Vanilla was harsh, I replied. Not on him, but on a flavour which is far from boring. Who can resist the sweet, aromatic warmth of vanilla beans steeped in stewed plums or stirred through fresh custard? But I took her point: from the menu of life, I had settled for drab.
We do this a lot with flavour: use it as a metaphor for our lives and loves. I can see why. Many of our most memorable moments are centred on mealtimes – food and drink are the focal point of big celebrations, meals the punctuation in mundane working days.
Our senses seem wired to associate our memories with particular mouthfuls. The spicy scent of Bombay mix takes me back to being four years old, sitting with my parents as they enjoy a glass of wine and pre-dinner nibbles. The sweet-sharp tang of balsamic vinegar transports me to the flat I shared with my friend Katie in my 20s, where we'd have monthly catch-ups eating balsamic vinegar-drizzled halloumi and drinking as we sat on the floor.
Of course, these occasions are emotionally resonant, but it is the flavours that enable me to access them. The fragrant heat of the Bombay mix, the salty, squeaky halloumi and the sticky balsamic vinegar acting as sensory portals to those places and the people. Indeed, so inextricable are those tastes, textures and smells to the accompanying experiences, I wonder if those memories would even exist if they hadn't been there. If my parents, instead of Bombay mix, had enjoyed plain old ready salted crisps before dinner, would I remember sitting there, listening to their chat and the record player? If we'd not drizzled the posh balsamic vinegar I'd brought back from Italy on our halloumi, would those meals – and the conversations that ensued – have been lost to the mists of time?
We live in a world that is dominated by sound and vision; by screens and social media, beeps, background noise and traffic. Between scrolling, typing, communicating and commuting, it's easy to forget the power of flavour to focus our minds on the present and carve out a moment in time. Which is why we shouldn't settle for bland flavours, any more than we should settle in a relationship we find boring. By adding a dash of hot sauce to our morning eggs or lashings of whisky to a decadent dessert – asking for that extra little kick, so to speak – we allow our meals and mouthfuls to taste, feel and mean a little bit more.
Flavour inspires connection; for when I think about times when I've felt particularly in sync with somebody, they have often been while tasting something new for the first time together. I've tried reed-wrapped curd with my mum, yam ice-cream with my dad and scorpion fish ceviche with my not-bland boyfriend and, while not all of them were delicious (the reed-wrapped curd won't be returning), they were all shared experiences that, by virtue of their vivid flavours, felt unique to us, our tastebuds and our minds.
Like travelling, eating is a way of experiencing the world – and just as true adventure requires leaving the resort and heading off the beaten track, the best journeys through flavour invariably take you to the road less travelled. Life is too short not to seek out ways of jazzing up even the simplest meals with ideas and ingredients from other cultures, or to experiment with those you already know and love. Many food lovers I know tend to double the garlic or salt in a recipe.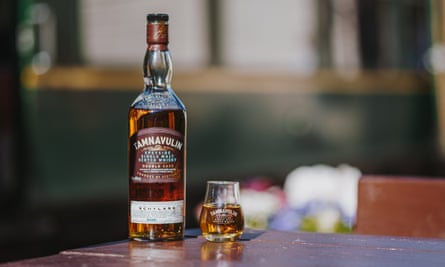 For my own part, I love to explore food and drink where time has enhanced their flavour; mature cheeses, preserved lemons and ginger, kimchi, or a luxurious single malt whisky, such as Tamnavulin Double Cask – which starts the first part of its ageing process in American oak barrels that had once held bourbon before being finished in sherry casks from Spain, allowing subtle touches from both to impart their flavours over time. The result is all warm apple and toffee aromas, and a fresh, mellow and creamy feel.
Sure there's comfort in familiar flavours – but even the familiar was new once, and it's only by travelling outside our comfort zone that we can expand it: creating new memories that are sometimes challenging, often delicious, always unifying, but never bland.
Clare Finney is a food writer and author of Hungry Heart: A Story of Food and Love
Find out how to live a more flavourful life, visit tamnavulinwhisky.com
Denial of responsibility!
Swift Telecast is an automatic aggregator of the all world's media. In each content, the hyperlink to the primary source is specified. All trademarks belong to their rightful owners, all materials to their authors. If you are the owner of the content and do not want us to publish your materials, please contact us by email –
swifttelecast.com
. The content will be deleted within 24 hours.