Multimedia artist and activist Benjamin Von Wong is back with another incredible project to confront an environmental disaster. Earlier this year, Von Wong artfully exposed bitcoin's negative impact on climate change, and now the artist is turning his creative energy toward electronic waste.
"Did you know that 800 laptops worth of electronic waste are thrown away every second?" asks Von Wong. The primary reason why is that it is costly and difficult for regular people to repair and upgrade existing electronics, which is a significant impetus behind the right to repair movement that has been steadily gaining steam, including a recent announcement by Apple that it will support California's new right-to-repair bill nationwide.
Partnering with Arcadia Earth's Toronto exhibit, Von Wong and a talented team, worked to create an art installation that will "make the boring topic of 'Right to Repair' a little more unforgettable," the artist explains in a new blog post. Benjamin Von Wong succeeded there because the massive, interactive installation created using 5,000 pounds of e-waste is eye-catching and impossible to ignore.
Von Wong and many essential volunteers, all of whom are listed on Von Wong's website, sorted through 1,500 pounds of cables, 800 pounds of motherboards, 800 pounds of keyboards, 1,500 pounds of computers, and 800 pounds of household appliances they received from Uni-Recycle, an organization with locations worldwide that will recycle a person's outdated electronics for free.
Once sorted, the team broke pieces apart and constructed a design that could be pre-assembled, disassembled, transported, and re-installed on-site. David Lister from CNCcutting.ca and Von Wong's friend and fabricator Dian Carlo played a vital role.
Alongside the vast installation, Tyler from Eclectic Lighting Design helped plan the setup of COB LED lights and Troy Strum performed the solder, installation, and programming. Von Wong also worked with his dad to build and solder custom side lights using upcycled acrylic.
Of course, before everything could be built, it had to be designed. Von Wong's girlfriend, Dana Waldman, helped created the initial sketches and conceptual engineer Jeremy Lizandier helped finalize the design, ensuring it was feasible and safe.
The e-waste project marks Von Wong's continued transition from a more traditional photographer into an installation artist. However, his photographic roots remain vital to his art. A significant focus of the team was ensuring that the brilliant installation, which people can climb and sit on, could be photographed by visitors no matter what camera they had.
Von Wong says the piece is much more than a photo opportunity, though, as the installation encourages people through augmented reality and audio to think about how they use — and dispose of — their electronics.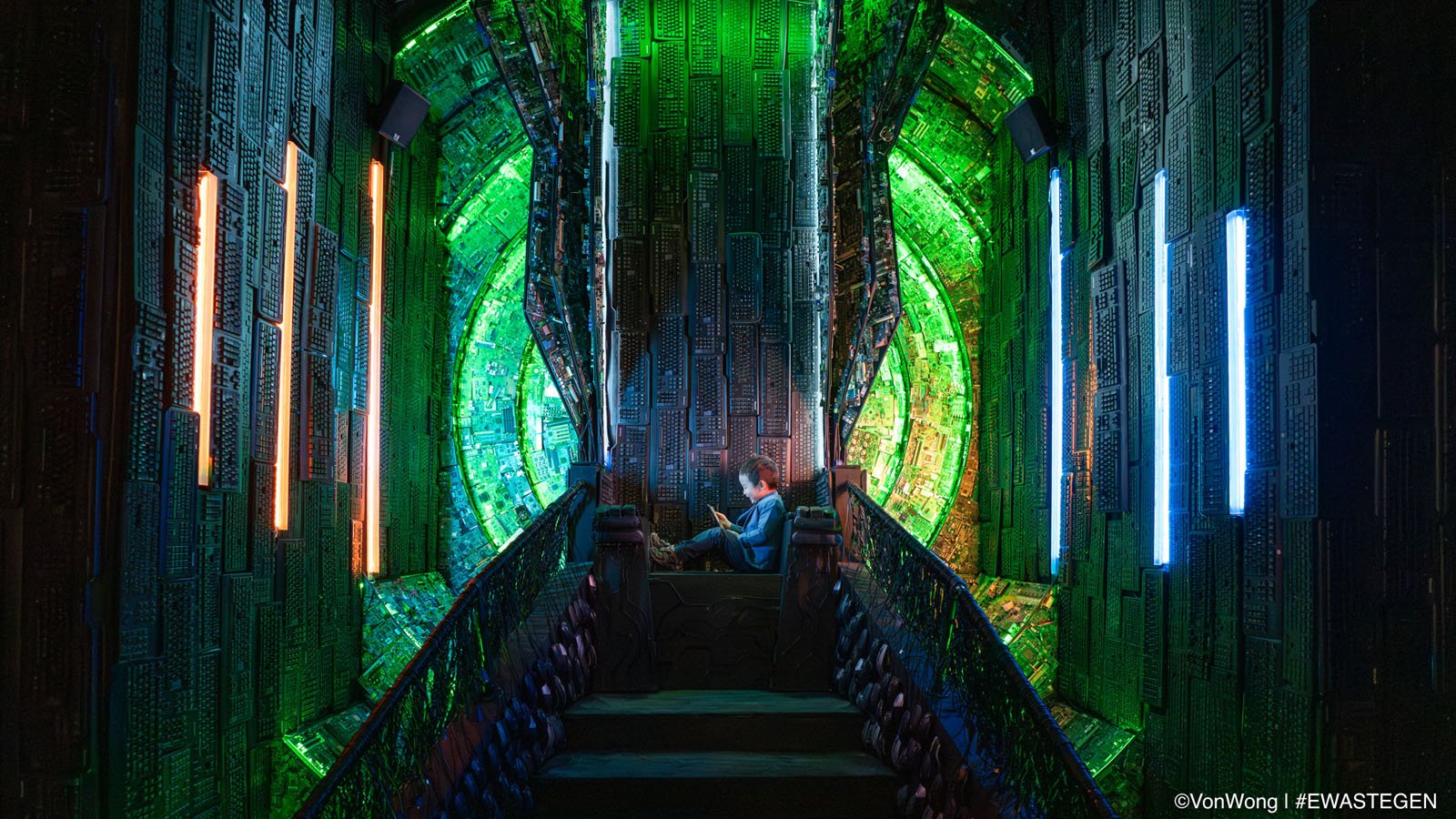 PetaPixel chatted with Von Wong about his new project, keen to learn more about the artist's evolving view toward creating art and empowering others.
"For the last couple of years, I've shifted from trying to take epic photos myself — but rather to building sets that empower anyone with a smartphone or camera to take an epic photo. Rather than battle with the algorithm myself, I'll allow the influencer experts of the world to spread the message for me instead. The process has been challenging — since I have no experience building installations — but slowly and surely, I've been able to do bigger and bigger projects," he tells PetaPixel over email.
As a photography and technology expert, Von Wong is no stranger to the allure of newer and better gear. However, he has become increasingly frustrated with how much more disposable new electronic devices have become.
"Both repairs and upgrades have become either impossible or exorbitantly expensive, forcing us into an endless consumption cycle," the artist explains. "The right to repair has been gaining significant traction recently, with major wins in California — and my hope with this installation is to keep up the momentum."
While the movement has received plenty of attention in recent years, it has not incorporated visual art into the mix. Von Wong hopes his new installation will give the right to repair movement an epic and remarkable art showcase and help encourage visitors to become advocates themselves.
"There are two main ways people can get involved," Von Wong says. "They can learn about the right to repair initiatives in their country or neighborhood, and they can dispose of/recycle their e-waste responsibly and ensure that it doesn't end up in a landfill." 70% of the world's toxic waste in landfills is e-waste. The thousands of pounds of e-waste used in the new installation will return to the "amazing folks at Uni-Recycle," per Von Wong. "They're an amazing social enterprise with a heart of gold!"
A significant part of Von Wong's success and ability to keep creating incredible new projects that shed light on some of the biggest problems facing the world is a supportive and creative team. The artist cites Dian Carlo and David Lister as big reasons why this latest project was even possible. The artist says that they, and the rest of the team, were excited to come up with creative solutions to practical problems and never shy away from experimentation.
Behind the Scenes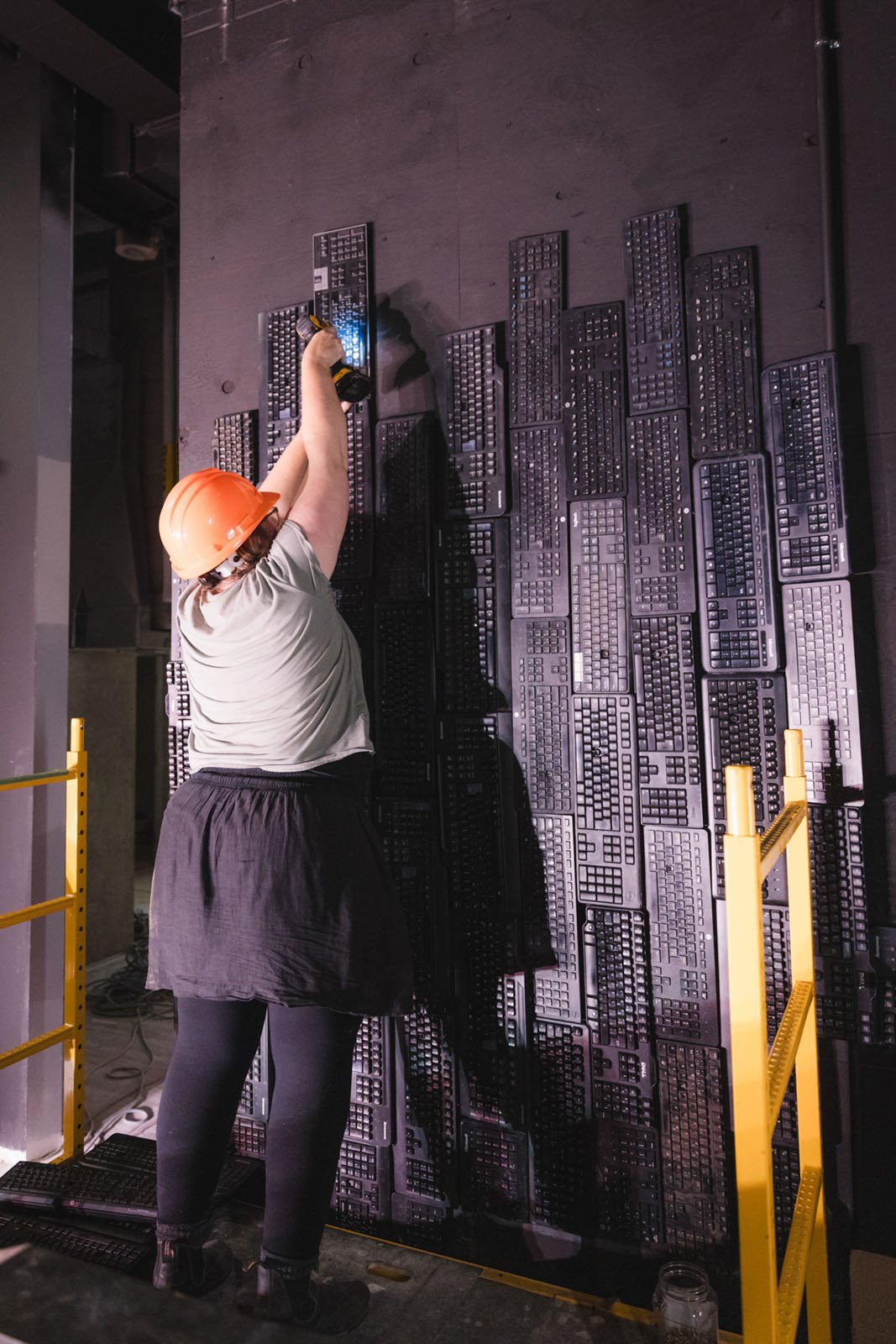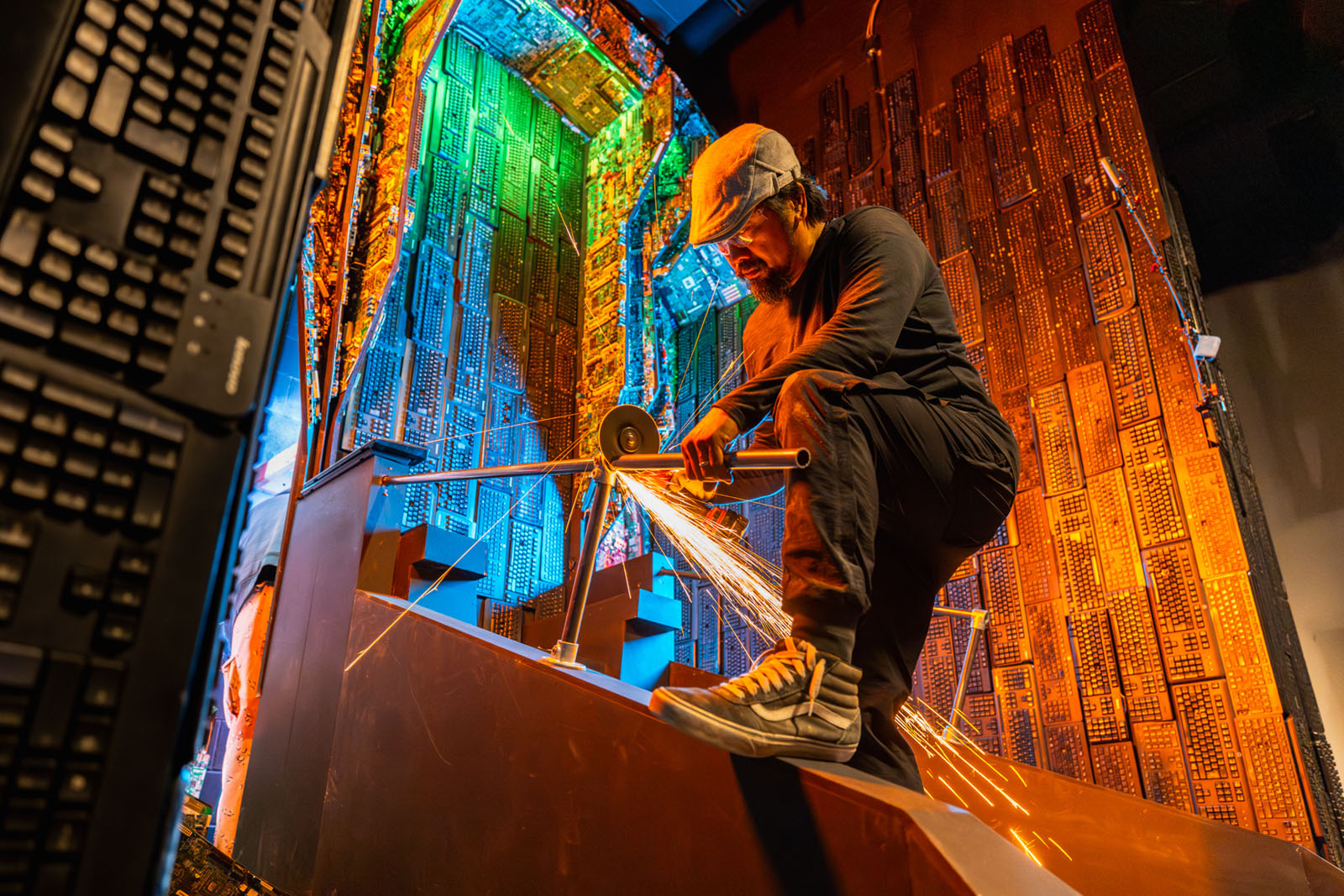 More on Benjamin Von Wong and His New Immersive E-Waste Installation
Arcadia Earth's new exhibit, "An Immersive Journey Through Planet Earth," is slated to open on December 1, and tickets are available to purchase now. Von Wong's brilliant new art installation will be on site for a year.
More of Benjamin Von Wong's work is available on his website. The artist also tells PetaPixel that he will be moving soon to Brooklyn, New York, and is "looking for friends!" Von Wong is always thinking up new ways to engage people in activism and searching for creative, passionate people to work with.
---
Image credits: All images © Benjamin Von Wong
Denial of responsibility!
Swift Telecast is an automatic aggregator of the all world's media. In each content, the hyperlink to the primary source is specified. All trademarks belong to their rightful owners, all materials to their authors. If you are the owner of the content and do not want us to publish your materials, please contact us by email –
swifttelecast.com
. The content will be deleted within 24 hours.